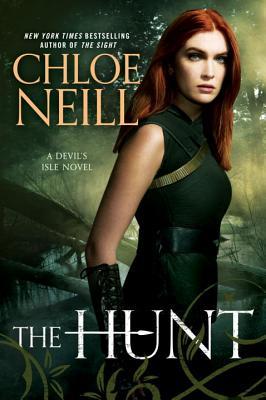 Author: Chloe Neill
Series. Devil's Isle, #3
Released: September 26th 2017
Publisher: Berkley
Length: 336 pages
Source: Publisher for review
Buy: Amazon
From the New York Times bestselling author of the Chicagoland Vampires Novels--the hunter becomes the hunted in a New Orleans devastated by a Paranormal war....

When bounty hunter Liam Quinn discovered that Claire Connolly was a Sensitive and infected with magic, he should have turned her in to be locked up in the prison district known as Devil's Isle. Instead, he helped her learn to control her power and introduced her to an underground group of Paranormals and humans who know the truth about the war and those who fought it.

Now the weight of Liam's own secrets has forced him into hiding. When a government agent is killed and Claire discovers that Liam is the prime suspect, she races to find him before the government can. But she'll discover proving his innocence is no simple matter. Their enemies are drawing closer, and time is running out....
Did you know that visiting New Orleans has always been a dream of mine? One day I'll go there, stay for a month, eat fabulous food, listen to their gorgeous dialects and enjoy the music and the flavorful air. In the meantime, though, my very favorite thing are books set in New Orleans that give me a sense of its gorgeous atmosphere, no matter how brief. Chloe Neill's Devil's Isle books show us a different New Orleans, a city forever changed by magic and fear. Still, the author succeeded in keeping the best of the city's spirit and in turning her chosen setting into yet another character, very much alive in every scene.
We reunite with Claire Connolly weeks after the battle that separated her from Liam. Having used magic out in the open, she must hide from the authorities or she risks ending up at Devil's Isle, the very place she's worked so hard to avoid. Surrendering her shop is very difficult for Claire, but she has a more important mission now, and she's willing to risk almost anything to fight for what's right.
Wounded by Liam's abandonment and yet trying to be as understanding as possible, Clair works with her allies to help those on Devil's Isle and bring necessary supplies to people who care for them. Claire is a strong, serious woman, not one for too much snark. She cares deeply and doesn't hesitate to risk herself for those she loves, even when they might not want her around. She learns things about her past in this book, things that would be hard for any person, and yet she displays bravery and determination while facing challenge after emotional challenge.
When Liam does show up, it becomes clear (if it wasn't before) that the two are meant for each other, but the trust between them is damaged. Claire has abandonment issues and a very good reason for them and Liam did the only thing she has a hard time forgiving. I was equally mad at him and sad for him in this book, but the second Claire forgives him completely, so will I.
Compared to her previous series. Chloe Neill kept all the best things about her writing, clarity being the most important among them, and lost all those issues I remember from her early work. There is an undeniable maturity in these books that simply wasn't present before and the quality of her storytelling far surpasses her previous books. It's easy to see how she grows and learns with each book she writes. I trust her to take us along for the ride.
A copy of this book was kindly provided by the publisher for review purposes. No considerations, monetary or otherwise, have influenced the opinions expressed in this review.