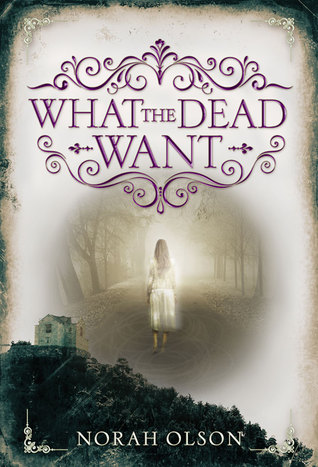 Series: Standalone
Released: July 26th 2016
Publisher: Katherine Tegen
Length: 320 pages
Source: Publisher for review
16-year-old Gretchen takes photographs to understand the world around her, a passion her mother Mona fostered and encouraged when she was still around. Since her mom disappeared years ago, Gretchen and her dad have lived on their own in New York City, haunted by Mona's absence.

When Gretchen's great aunt Esther calls unexpectedly to tell her that she has inherited the pre-Civil War mansion on her mother's side of the family in upstate New York, Gretchen understands nothing except that her aunt needs her help. But what she finds there is beyond her imagination. The house is crumbling apart, filled with stacks of papers and journals from decades, even centuries past, and it's crawling with rodents. It's also full of secrets and a legacy of racism and violence so reprehensible that the ghosts of the past are exacting revenge on the living.

Somehow the mystery of Mona's disappearance and the atrocities that happened on the land during the Civil War are inextricably intertwined, and it's up to Gretchen to figure out how…before even more lives are lost.
There's an interesting story somewhere in What the Dead Want, although it's so well hidden that you'll have trouble finding it. Norah Olson's sophomore novel requires a lot of patience and faith. The first part appears to be a confusing, unconnected series of chapters from several points of view, and this goes on long enough that even the most patient reader starts thinking about giving up. When things finally start to connect, they still feel distant and unemotional, and by the time things start to unravel, it's very difficult to care at all.
It could be argued that Olson had far too many ideas, but fell short on following through. In order for a book like What the Dead Want to work, the writing needs to be immersive and atmospheric. Olson's writing is far too simplistic to achieve the necessary depth. It's almost like watching through a window as a fabulous meal is being cooked – you can see it happening, but none of your other senses are affected. I didn't want to be told that Gretchen was feeling her skin crawl or that the hair on her arms and neck was rising. I wanted it to happen to me, to feel it all alongside her.
There is an excellent Civil War story in the background about saving slaves from the Ku Klux Klan, but it's convoluted, confusing and not given nearly enough attention. The big reveal is foreshadowed a bit too strongly so it doesn't come as a surprise at all. Even the extent of human cruelty doesn't hurt or shock us, being written in a way that doesn't quite reach our hearts. What the Dead Want could have been a far better story with some more careful writing and editing. As it is, it's best to just skip it.
A copy of this book was kindly provided by the publisher for review purposes. No considerations, monetary or otherwise, have influenced the opinions expressed in this review.