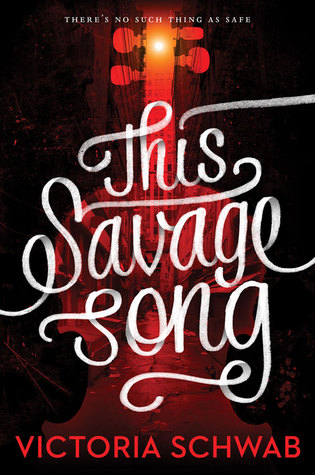 Series: Monsters of Verity, #1
Released: July 5th 2016
Publisher: Greenwillow
Length: 464 pages
Source: Publisher for review
There's no such thing as safe in a city at war, a city overrun with monsters. In this dark urban fantasy from author Victoria Schwab, a young woman and a young man must choose whether to become heroes or villains—and friends or enemies—with the future of their home at stake. The first of two books.

Kate Harker and August Flynn are the heirs to a divided city—a city where the violence has begun to breed actual monsters. All Kate wants is to be as ruthless as her father, who lets the monsters roam free and makes the humans pay for his protection. All August wants is to be human, as good-hearted as his own father, to play a bigger role in protecting the innocent—but he's one of the monsters. One who can steal a soul with a simple strain of music. When the chance arises to keep an eye on Kate, who's just been kicked out of her sixth boarding school and returned home, August jumps at it. But Kate discovers August's secret, and after a failed assassination attempt the pair must flee for their lives.
Victoria Schwab is an experienced and wonderful storyteller. Her prose is elegant and gorgeous, and she has such a flair for originality. The world she built for Monsters of Verity may be anchored in familiar mythology, but it's so full of twists and turns that it takes a while for us to find our footing. Corsai, Malachai, Sunai, all of them different monsters roaming the city of Verity, with only two families at war standing between them and humanity.
From the moment we meet Kate Harker, we understand that she's an unconventional heroine. For her, burning a chapel to achieve her goal isn't something that requires much consideration. More than anything, Kate wants to be sent home to her father, where she can finally prove that she is just like him and not some crying weakling that could possibly embarrass him. As the ruthless ruler of the city, Kate's father doesn't tolerate weaknesses and mistakes, and Kate is more than ready to show him her strength.
While Kate pretends to be just as cruel as her father, August spends every day wishing to be the opposite. He already is a monster, but he really just wants to be a decent, kind person. As a Sunai, August fights his inner darkness every day and he's been successful for a very long time. However, like Kate, August has something to prove to his family, even if it means leaving the safety of their house and pretending to be a human boy in Kate's school. Schwab did a fantastic job with Corsai and Malachai, but the Sunai and their bottomless eyes make it stand out.
Sunai, Sunai, eyes like coal,
Sing you a song and steal your soul.
Although the world and the characters take some getting used to, the second part of this book is a non-stop rush of action and excitement. So much is going on at once and every new page brings a shift in opinions and expectations. While I guessed what was really happening pretty early on, I had no idea how it would play out and the strong sense of imminent danger to our main characters made this book impossible to put down.
Let me make this clear because it might be important to some: there is no romance in This Savage Song. None. But there are mere hints of something that could possibly develop in the future if Schwab chooses to put us through such torment. Or not. Whichever way it goes, I'll be perfectly satisfied. The characters are strong enough to stand on their own and the world interesting enough to function even without the romance.
I'm certain everyone will find something to love in This Savage Song. The book has so many strengths that it's impossible not to. You might end up loving the characters, enjoying the world, getting swept up by the action, getting hooked on the small hints of romance or all of the above. The one thing you won't be is disappointed.
A copy of this book was kindly provided by the publisher for review purposes. No considerations, monetary or otherwise, have influenced the opinions expressed in this review.