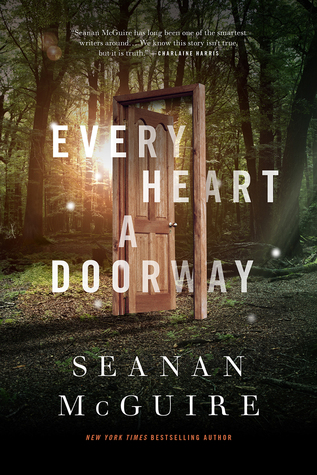 Series: Every Heart, #1
Released: April 5th 2016
Publisher: Tor
Length: 173 pages
Source: Publisher for review
Eleanor West's Home for Wayward Children

No Solicitations

No Visitors

No Quests

Children have always disappeared under the right conditions; slipping through the shadows under a bed or at the back of a wardrobe, tumbling down rabbit holes and into old wells, and emerging somewhere... else.

But magical lands have little need for used-up miracle children.

Nancy tumbled once, but now she's back. The things she's experienced... they change a person. The children under Miss West's care understand all too well. And each of them is seeking a way back to their own fantasy world.

But Nancy's arrival marks a change at the Home. There's a darkness just around each corner, and when tragedy strikes, it's up to Nancy and her new-found schoolmates to get to the heart of the matter.

No matter the cost.
Seanan McGuire's obsession with fairy tales comes through loud and clear in her work. She tends to use fairy tales as a springboard of sorts, but she always lands on a completely uncharted territory. Indexing might be the best example of this, but Every Heart a Doorway isn't far behind.
Eleanor West's Home for Wayward Children is a place for those who have, at some point, stumbled upon a doorway to some other world. Each of them carries the consequences of their stay and every one of Eleanor's kids wants to return. In this school they find understanding and the patience needed to adapt. Eleanor herself has a doorway open and she's been going back and forth for years.
Like all Seanan's books, Every Heart is gorgeous, flawlessly written and just plain weird. It's actually a novella, but a fairly unusual one. It's somehow both thrilling and calming, both simple and extremely complex, both light and full of strong messages. Seanan's worldview comes through loud and clear and she relies on her trademark humor to keep it from being preachy. With an asexual protagonist, a transgender character and several strong passages on gender equality and equality in general, Every Heart a Doorway is a book you can enjoy and learn from, all at the same time.
"Because 'boys will be boys' is a self-fulfilling prophecy," said Lundy. "They're too loud, on the whole, to be easily misplaced or overlooked; when they disappear from the home, parents send search parties to dredge them out of swamps and drag them away from frog ponds. It's not innate. It's learned. But it protects them from the doors, keeps them safe at home. Call it irony, if you like, but we spend so much time waiting for our boys to stray that they never have the opportunity. We notice the silence of men. We depend upon the silence of women."
I am in love with the richness of this novella, the creepy atmosphere and the wonderfully diverse characters. It's a story that might have been told a million times, and yet somehow it's completely new and exciting. There are very few authors I trust as much as I trust Seanan McGuire, and this is why. Her wonderful imagination and her unique spirit guarantee a story I'm unlikely to ever forget.
A copy of this book was kindly provided by the publisher for review purposes. No considerations, monetary or otherwise, have influenced the opinions expressed in this review.