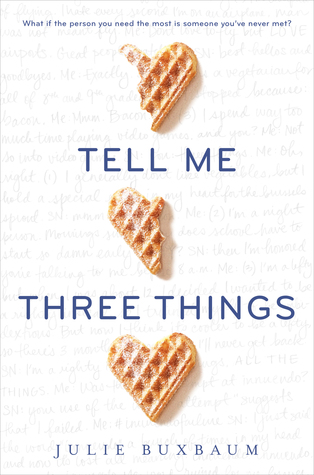 Author: Julie Buxbaum
Series: Standalone
Released: April 5th 2016
Publisher: Delacorte
Length: 336 pages
Source: Publisher for review
Buy: Amazon
Everything about Jessie is wrong. At least, that's what it feels like during her first week of junior year at her new ultra-intimidating prep school in Los Angeles. Just when she's thinking about hightailing it back to Chicago, she gets an email from a person calling themselves Somebody/Nobody (SN for short), offering to help her navigate the wilds of Wood Valley High School. Is it an elaborate hoax? Or can she rely on SN for some much-needed help?

It's been barely two years since her mother's death, and because her father eloped with a woman he met online, Jessie has been forced to move across the country to live with her stepmonster and her pretentious teenage son.

In a leap of faith—or an act of complete desperation—Jessie begins to rely on SN, and SN quickly becomes her lifeline and closest ally. Jessie can't help wanting to meet SN in person. But are some mysteries better left unsolved?

Julie Buxbaum mixes comedy and tragedy, love and loss, pain and elation, in her debut YA novel filled with characters who will come to feel like friends.
Grief is a very strange thing. It makes people behave differently, uncharacteristically and unpredictably. Grief often causes us to act out and neglect those we care for the most. In order to write about it, truly write about it, one must understand it completely and intimately, otherwise it's just an empty plot device that leads absolutely nowhere. Julie Buxbaum fully understands the subtleties of grief, the isolation and odd behaviors that come with it, and because of her thorough understanding, Tell Me Three Things stands out among others of its kind. It is, in fact, quite extraordinary.
The book is not
about
grief, which is precisely the point. It has many layers, each one more beautiful than the last. I liked Jessie from the start, and as someone who's been in her situation, I could completely relate. But even if I couldn't, Buxbaum's excellent characterization would have made her stand out. Finding herself in a prestigious school on the other side of the country while still grieving for the loss of her mom and pretty much everything else she ever knew and loved was extremely difficult for Jessie. And yet, she kept her sense of humor the entire time. Her conversations with Somebody Nobody, a mysterious boy who decided to help her learn the ins and outs of her new school, were often very funny. Although the book was sometimes hard to read, especially for someone like me who's been through very similar things, Buxbaum found the perfect balance between challenging emotions, romance and fun.
Tell Me Three Things is really about loneliness and finding comfort in the strangest of places. There's a nice mystery going on throughout the book, and while it wasn't too difficult to guess, I still doubted my answers enough to make things interesting. The romance is one of those rare few with actual substance. It's a bit different in that it took a lot of time to develop, but that's something that certainly worked in its favor.
Overall, while I don't read much contemporary YA, when I do decide to read it, this is precisely the kind I want – mature, emotional and, above all, entertaining.
To keep up with the theme of the book and Jessie's exchanges with Somebody Nobody, here are my three things for today: 1. My first crush was on my brother's best friend (and isn't that a cliché), who was five years older than me, played the piano and sang like an angel. I was nine. 2. Although I'm responsible and hardworking in most other things, exercise is not my forte. 3. I sometimes think it strange that not everyone loves or cares about linguistics like I do. I mean, it's language, we all use it. How can you not want to take it apart and see how it works?
A copy of this book was kindly provided by the publisher for review purposes. No considerations, monetary or otherwise, have influenced the opinions expressed in this review.
That's all for today, folks. Thank you for being around when I wasn't.