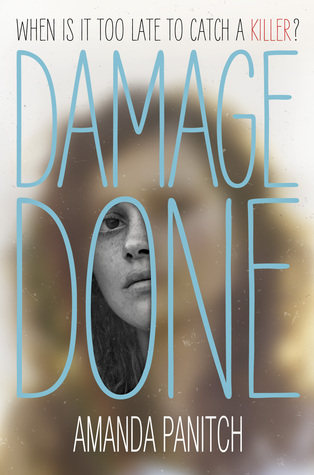 Author: Amanda Panitch
Series: Standalone
Released: July 21st 2015
Publisher: Random House
Length: 304 pages
Source: Publisher for review
Buy: Amazon
22 minutes separate Julia Vann's before and after.

Before: Julia had a twin brother, a boyfriend, and a best friend.

After: She has a new identity, a new hometown, and memories of those twenty-two minutes that refuse to come into focus. At least, that's what she tells the police.

Now that she's Lucy Black, she's able to begin again. She's even getting used to the empty bedroom where her brother should be. And her fresh start has attracted the attention of one of the hottest guys in school, a boy who will do anything to protect her. But when someone much more dangerous also takes notice, Lucy's forced to confront the dark secrets she thought were safely left behind.

One thing is clear: The damage done can never be erased. It's only just beginning. . . .
Damage Done is one of those books that push us far outside our comfort zones, making us feel confused, scared and completely disgusted. It was a considerable feat for Amanda Panitch and a huge risk to take for a debut novel, but being courageous enough to stretch the boundaries or even erase them altogether can certainly pay off, and it did.
We meet Julia Vann as she's getting accustomed to her new life, in a new city and under a different name. Her parents packed up and ran from their past after a horrible crime, mostly for her benefit, and now she's alone in a new city for the first time in her life, a tabula rasa free to become anything at all.
It's clear from the start that Lucy/Julia has a lot to hide as she's very consciously lying and manipulating her way through her new environment. The terrible crime her brother committed might be a looming shadow over her life, but her exact role in it remains unclear until the end. Through her eyes, as she slowly reveals her past to us, we see the development of a sociopath, feared by everyone but herself. While it's clear that people can be born evil, it's also quite obvious that nothing is ever that simple. Even those born with something essential missing can be changed by their environment, if those around them are interested or caring enough to actually get involved. Damage Done is a psychological thriller first, but at the same time, it's a critique of parents, the school system and even, to a degree, mental health professionals, who can become so absorbed in their own problems that they completely miss the warning signs of those they're responsible for.
Damage Done works hard to shock and astonish and it succeeds to a degree. It would probably work best for someone who'd go into it blindly, unaware of the many comparisons to Gillian Flynn and other similar thrillers. But even aware that something is coming, I couldn't have possibly guessed the full extent of it or how unsettling it would all be.
For all the attention it gave to its protagonist, the book painfully neglected the secondary characters, leaving them unexplored, unexplained and completely two-dimensional, starting with Julia's parents and ending with her new boyfriend Michael. Such lack of serious characterization should not have happened in what is essentially a psychological thriller, where everything is, and should be, about the characters.
Overall, Damage Done is disconcerting and scary as hell, but it's a much needed breath of fresh air in YA fiction. I'm still reeling from the effect it had on me, and although uncomfortable, it makes for a nice change after all the lukewarm, forgettable reads.
A copy of this book was kindly provided by the publisher for review purposes. No considerations, monetary or otherwise, have influenced the opinions expressed in this review.