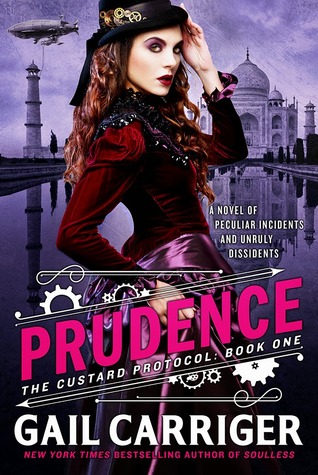 Author: Gail Carriger
Series: The Custard Protocol
Released: March 19th 2015
Publisher: Orbit
Length: 343 pages
Source: Publisher for review
Buy: The Book Depository
ON BEHALF OF QUEEN, COUNTRY . . . AND THE PERFECT POT OF TEA.

When Prudence Alessandra Maccon Akeldama (Rue to her friends) is given an unexpected dirigible, she does what any sensible female would under similar circumstances - names it the Spotted Crumpet and floats to India in pursuit of the perfect cup of tea.

But India has more than just tea on offer. Rue stumbles upon a plot involving local dissidents, a kidnapped brigadier's wife, and some awfully familiar Scottish werewolves. Faced with a dire crisis and an embarrassing lack of bloomers, what else is a young lady of good breeding to do but turn metanatural and find out everyone's secrets, even thousand-year-old fuzzy ones?
Fans of Gail Carriger, do you remember that spark of delightful, outrageous humor that was there in Soulless, but seemed to have all but disappeared in later books? It was probably somewhere collecting interest because it's back in full force in Prudence. This is Carriger's best work since her debut, it's fresh, full of adventure and has just enough romance to keep us glued to our reading chairs.
Prudence Alessandra Maccon Akeldama, Rue to her friends, daughter of Alexia and Conall Maccon and adopted daughter of Lord Akeldama, was mostly raised by her second father for her own safety. Her birth parents lived next door to stay close to her, but Dama was always her biggest ally and friend. As a result of her unusual upbringing (and her excellent genes), Prudence is a highly opinionated young lady, resourceful, smart and naturally very fashionable. She is also a bit of a tomboy and she doesn't concern herself too much with society's many rules, much to her adoptive father's delight.
Prudence and her Dama conspire regularly to manipulate Alexia into allowing Rue to do all sorts of outrageous things, like traveling to India to investigate tea. Once convinced, of course, Alexia easily convinces her husband to do exactly the same. So begins Rue's journey on Spotted Custard with her carefully selected crew and her trusted friends.
Like their mothers before them, Rue and Prim Tunstell are the best of friends. Prim is so very different from Ivy, though. She is flawless, stylish, and she always does the right thing. She outshines Rue regularly, but Rue is never even a bit resentful. She just loves Prim like a sister and doesn't care about petty things. Prim's brother Percy is, of course, just as interesting, but in an entirely different way. He is a bookworm if there ever was one, with all sorts of knowledge and very little practical application. His obliviousness was a constant theme in the book and it never stopped being hilarious.
"You're not worried he'll escape?" Prim watched her brother with affectionate exasperation.
"I've given instructions for the footmen and porters to wall him in with his own books. By the time he reads his way out, we should be ready to float off." "You'll leave a feeding hole?" "I'm not a monster."
The romance begins with (mostly feigned) antagonism and proceeds to entertain with hilarious banter. I liked Quesnel Lefoux for Rue. He was always more than capable of standing up to her, which not many people can. I enjoyed seeing her manipulated for once, and her unacknowledged jealousy made me laugh all the time. This is merely the beginning of what promises to be a delightfully entertaining romance.
Carriger made sure that you can easily enjoy Prudence even if you haven't read the original series. There are many links that connect the two, but even without those, the novel is simply wonderful. I can't wait for the next one to come out.
A copy of this book was kindly provided by the publisher for review purposes. No considerations, monetary or otherwise, have influenced the opinions expressed in this review.