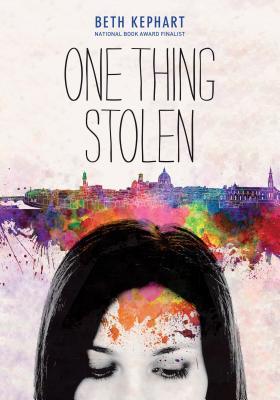 Author: Beth Kephart
Series: Standalone
Released: April 14th 2015
Publisher: Chronicle
Length: 272 pages
Source: Publisher for review
Buy: Amazon
Something is not right with Nadia Cara. While spending a year in Florence, Italy, she's become a thief. She has secrets. And when she tries to speak, the words seem far away. Nadia finds herself trapped by her own obsessions and following the trail of an elusive Italian boy whom only she has seen. Can Nadia be rescued or will she simply lose herself altogether? Set against the backdrop of a glimmering city, One Thing Stolen is an exploration of obsession, art, and a rare neurological disorder. It is a celebration of language, beauty, imagination, and the salvation of love.
I was lucky enough to read two gorgeously written books in close succession, which is rare. The first was Magonia by Maria Dahvana Headley, and the second is Beth Kephart's gorgeous new novel. In her new book, Kephart takes us straight to Florence to explore two natural disasters of very different proportions: one that did its best to ruin an entire city, and one that did the same to a very young girl.
Kephart's writing is pure poetry. It takes some effort to untangle, but it's stunningly gorgeous even before things start making sense. I wasn't aware of her many strengths before, for which I have no one but myself to blame, but it's clear that lyrical writing is one of them. Her sentences are purposely disjointed, with a definite and very loud rhythm, and her expressions are deeply metaphorical and marvelous. It's difficult to find the right measure with such a rich writing style, but Beth Kephart's is as close to perfect as it can possibly get.
Rarely do we find an unreliable narrator like Nadia. It's clear from the start that she cannot be trusted, but we don't quite know why. She can't express herself properly, words come very slowly, she's aware of some memory loss and fairly frequent hallucinations. Compulsive behavior quickly becomes evident as well, but we're still unable to clearly identify her condition. We only know that we have to question everything she tells us, but we also feel her frustration very deeply. That is precisely what Kephart did best – the feeling of intense claustrophobia caused by Nadia's inability to communicate with the world.
As the story unravels and things become even more intense, our sympathy for Nadia and her wonderful family grows exponentially. I could just imagine seeing someone I love deteriorate so rapidly and not being able to do anything about it.
The setting is another thing that's incredibly easy to admire. I am very familiar with Florence, it's one of my favorite cities and I know it rather well, and apparently so does the author. She takes you through those streets, transfers the atmosphere and captures the rich beauty of it all so easily. If you can't visit Firenze for yourself, allow Kephart to take you there briefly and show you the city through Nadia's eyes.
One Thing Stolen is not an easy read. Descriptions of Florence are a welcome distraction from a sometimes very difficult story. But a story filled with hope, no matter how precarious, is always one worth reading, and when it's delivered in such a gorgeous writing style, it should not be missed by anyone.
A copy of this book was kindly provided by the publisher for review purposes. No considerations, monetary or otherwise, have influenced the opinions expressed in this review.