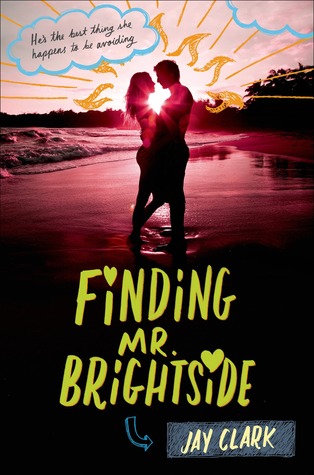 Author: Jay Clark
Series: Standalone
Released: March 24th 2015
Publisher: Henry Holt & Co.
Length: 224 pages
Source: Publisher for review
Buy: Amazon
Abram and Juliette know each other. They've lived down the street from each other their whole lives. But they don't really know each other—at least, not until Juliette's mom and Abram's dad have a torrid affair that culminates in a deadly car crash. Sharing the same subdivision is uncomfortable, to say the least. They don't speak.

Fast-forward to the neighborhood pharmacy, a few months later. Abram decides to say hello. Then he decides to invite her to Taco Bell. To her surprise as well as his, she agrees. And the real love story begins.
I went into this book with no small amount of trepidation. The book description seems to imply that there's a lot of angst in this story, and I'm in no mood for it at all. However, I've been following Jay Clark on social media for quite a while now and angst doesn't seem to be his thing, so I decided to give this book a chance after all. I was right about the angst part, at least.
While it's true that Finding Mr. Brightside is blissfully free of angst, it's also devoid of any sweetness. It's a pretty claustrophobic little book that revolves around two characters, Juliette and Abram, with only two or three more secondary characters to lighten things up a bit. Juliette's mother and Abram's father were having an affair and they died together in a car accident. Juliette and Abram are both grieving in their own ways, but Juliette is having a much harder time getting over her anger. Abram didn't strike me as angry. He didn't strike me as anything, really, and I can't say that his character stood out in any memorable way. As for Juliette, her behavior often made me very uncomfortable, and while I can forgive some of it because of her grief, she was sometime bossy and appallingly inconsiderate of others. Not something I want in my heroines.
Finding Mr. Brightside tries too hard to be quirky and different, and while it succeeds with the latter, it falls considerably short with the former. I had high hopes for it, especially after reading the first few, very promising chapters. But after the initial humor, the rest mostly just fell flat, and I ended up struggling to finish this unusually short book.
It's pretty obvious that Jay Clark has a lot of talent, though, and I'm positive that he can and will show it. I don't think he's found his voice quite yet, but he's getting there.I have high hopes for his next book.
A copy of this book was kindly provided by the publisher for review purposes. No considerations, monetary or otherwise, have influenced the opinions expressed in this review.