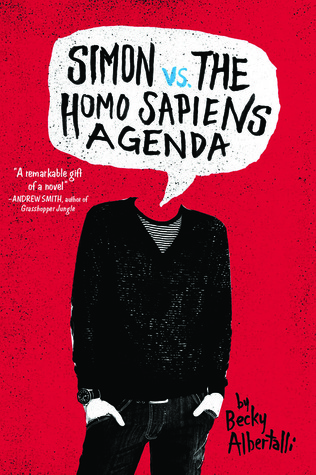 Author: Becky Albertalli
Series: Standalone
Released: April 7th 2015
Publisher: Balzer + Bray
Length: 320 pages
Source: Publisher for review
Buy: Amazon
Sixteen-year-old and not-so-openly gay Simon Spier prefers to save his drama for the school musical. But when an email falls into the wrong hands, his secret is at risk of being thrust into the spotlight. Now Simon is actually being blackmailed: if he doesn't play wingman for class clown Martin, his sexual identity will become everyone's business. Worse, the privacy of Blue, the pen name of the boy he's been emailing, will be compromised.

With some messy dynamics emerging in his once tight-knit group of friends, and his email correspondence with Blue growing more flirtatious every day, Simon's junior year has suddenly gotten all kinds of complicated. Now, change-averse Simon has to find a way to step out of his comfort zone before he's pushed out—without alienating his friends, compromising himself, or fumbling a shot at happiness with the most confusing, adorable guy he's never met.
Simon vs. the Homo Sapiens Agenda
is the most adorable book in the history of books ever. (Seriously, my heart is currently a puddle on the floor.) But this book is much more than just quirky and cute, it is also necessary, very important even, because it (finally) brings much needed diversity into YA fiction. In the sub(sub)genre we usually refer to as coming-of-age contemporary fiction, Simon vs. the Homo Sapiens Agenda shines like the brightest star.
Simon is just a regular, smart boy from a regular, loving family. He leads a regular life and has regular friends, he participates in regular activities and likes all the regular things. He also happens to be gay. Simon has yet to reveal that secret to anyone. He doesn't fear that his family will reject him, he doesn't think his friends will turn on him, but it's still a pretty big secret to keep and he simply doesn't feel ready to share. It's the first thing I liked about this book, it approached the process of coming out as exactly that, a process which everyone should approach at their own pace, even when there's no danger of being ostracized for it. Being emotionally mature enough to handle declaring yourself different from most people isn't something we all reach at the same time, and seeing Simon's process was both endearing and exhilarating.
Realistic male voices are still far too rare in Young Adult fiction. It's not often that we get someone like Simon, such an authentic character, completely true to life. The geekiness, the awkwardness, the adoration of Harry Potter bring us closer to this boy who is perhaps a bit different, but paradoxically same as everybody else. Other characters were just as fleshed out, which made it easy for Albertalli to take us straight to Simon's world and make us live that exciting time right alongside him.
"White shouldn't be the default any more than straight should be the default. There shouldn't even be a default."
The pacing was admittedly a bit of an issue, especially around the middle where the story dragged and felt somewhat empty, but overall it's a minor flaw that can easily be overlooked. Simon vs. the Homo Sapiens Agenda is a story you need to read and recommend if you haven't already. It will warm your heart in the best way possible.
I hope we'll get more from Albertalli soon. Judging by her debut, we're in for a treat.
A copy of this book was kindly provided by the publisher for review purposes. No considerations, monetary or otherwise, have influenced the opinions expressed in this review.