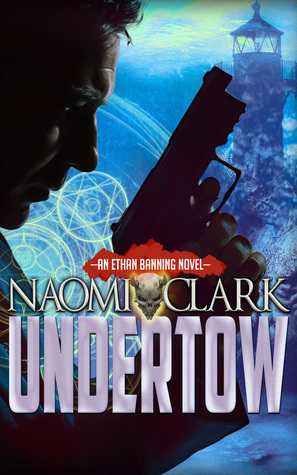 Author: Naomi Clark
Series: Ethan Banning, #1
Released: August 24th 2014
Publisher: Ragnarok
Lenght: 235 pages
Source: Publisher for review
Buy:Amazon
PI Ethan Banning is a desperate man.

He's desperate to rid himself of the demon possessing him. He's desperate to stop the nightmares and the evil urges it fills him with. He's so desperate, he's agreed to quit smoking and drinking in exchange for help. Professor Benedict Walters thinks he can exorcise Ethan with clean living and ancient history, but he won't do it for free. Ethan's got to track down Heather, a missing colleague of Walters in the quaint and creepy seaside town of Beacon's Point. It should be simple...

But the locals are hostile and Heather may not want to be found. Even if Ethan can crack the case, he's still got to deal with a trainee necromancer, his own fading self-control, and an ancient entity that terrifies Ethan's own personal demon.

Crack the case? He may not even survive it.
Nothing like a good anti-hero to brighten up one's day! And in the army of anti-heroes I've met in my life, Ethan Banning is, without doubt, one of the very best. He is private detective who constantly struggles with what he calls the Voice and what is in fact a demon that possessed him during one of his cases.
The Voice isn't taking it easy on Ethan. It constantly whispers into his ear, telling him to hurt people and even kill them. The two are locked in a never-ending battle and make no mistake, Ethan is not winning. There are times when his plight is so terrible, so utterly humiliating, that we get a sudden and strong urge to step in and put him out of his misery. Just imagine and evil creature living inside your head, able to use you as its mouthpiece and speak impossibly vile things through your very own lips. Poor Ethan, is he not? There is just enough shame and regret in him to make our guts clench in sympathy, although Ethan sometimes makes even that extremely hard.
But even demon-possessed and miserable, Ethan must do his job to survive, and his strength lies in finding missing persons. When a case lands on his table (the world table, of course, is used metaphorically since he doesn't really have much in the way of material possessions), a sort of quid-pro-quo arrangement, Ethan sets out to find a missing college professor. The investigation takes Ethan to Beacon's Point, a small town by the ocean with a very xenophobic population. Beacon's Point makes an extremely claustrophobic setting, and even though Ethan finds a sidekick of sorts (not counting his dog Mutt, of course), all doors are closed to him and his investigation is extremely difficult.
There are two prequel novellas you can read before going into this book – one before Ethan was possessed and one after – but it's not necessary to read them in order to enjoy this novel. Ethan will tell you all you need to know, and truth be told, you don't really need to know much. And anyway, the Voice will tell you more than you ever wanted to hear.
Naomi Clark is an experienced author, and it shows. This is dark urban fantasy folks, dark and depressing, but certainly worth your time.
A copy of this book was kindly provided by the publisher for review purposes. No considerations, monetary or otherwise, have influenced the opinions expressed in this review.