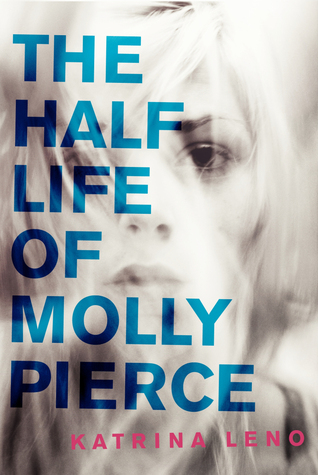 Author: Katrina Leno
Series: Standalone
Released: July 8th, 2014
Publisher: HarperTeen
Length:256 pages
Source: Publisher for review
Buy: Amazon
For all of her seventeen years, Molly feels like she's missed bits and pieces of her life. Now, she's figuring out why. Now, she's remembering her own secrets. And in doing so, Molly uncovers the separate life she seems to have led…and the love that she can't let go.

The Half Life of Molly Pierce is a suspenseful, evocative psychological mystery about uncovering the secrets of our pasts, facing the unknowns of our futures, and accepting our whole selves.
The Half-Life of Molly Pierce is quite an interesting read, different in some ways, painfully predictable in others. It would be a much better book with its cover stripped and its title changed into something generic. As it is, both these things are quite spoiler-ish, and we pretty much understand what's going on from the start.
Nevertheless, the first half of the book is pretty exciting. Knowing what's happening and knowing how it will all end are two different things, and Leno pulls us in easily with her somewhat peculiar narrative style. Molly's voice is as strong as Molly is weak, her fatalistic attitude glaringly obvious from every single sentence. She is more than just depressed, she has more or less given up on life entirely, and only the mystery of hours and memories lost keep her going forward.
However, after a rather promising beginning, the story loses a significant portion of its charm in the second half. That's when all the predictability really takes its toll – instead of fear and trepidation, we merely feel exasperated while waiting for Molly to catch up. At this point, even the romance becomes a bit unconventional, and it might make some readers uncomfortable, as it did me.
Leno's writing style is unusual and quite memorable. Her sentences are short with an almost rhythmic quality, and her language is beautiful for its simplicity. There's so much potential there, and so much to look forward to in the future. I think we can expect great things from this young author.
In the end, Leno's writing and Molly's fabulous voice make this a worthy read. Molly's depression really struck a chord with me, and I felt that her thought process and the darkness that consumes her when she's fully aware of herself were done rather brilliantly. As for the rest, it will largely depend on the reader's preferences. Some might find the story far more enjoyable than I did, but either way, definitely give it a try.
A copy of this book was kindly provided by the publisher for review purposes. No considerations, monetary or otherwise, have influced the opinions expressed in this review.