Waiting on Wednesday is a weekly event hosted by Jill at Breaking the Spine. It spotlights upcomign releases that we're eagerly anticipating
This week I'm dying to read....
Blood of My Blood by Barry Lyga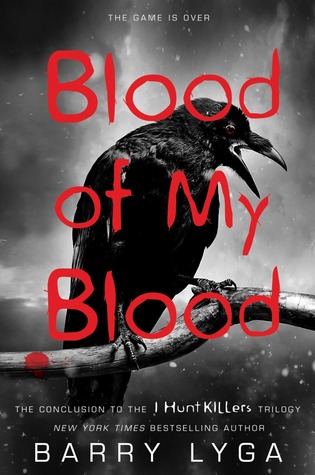 Title: Blood of My Blood
Series: Jasper Dent, #3
Release date: September 9th 2014
Publisher: Little Brown
Format: Hardcover, 464 pgs
Pre-order: The Book Depository
Jazz Dent has been shot and left to die in New York City. His girlfriend Connie is in the clutches of Jazz's serial killer father, Billy. And his best friend Howie is bleeding to death on the floor of Jazz's own home in tiny Lobo's Nod. Somehow, these three must rise above the horrors their lives have become and find a way to come together in pursuit of Billy. But then Jazz crosses a line he's never crossed before, and soon the entire country is wondering: "Like father, like son?" Who is the true monster?
The chase is on, and beyond Billy there lurks something much, much worse. Prepare to meet...the Crow King.
Why am I sitting here biting my nails? The last book ended with not one, not two, but three cliffhangers. I mean, really? I need to know who's alive and who's not, and I need to know it now! Luckily, September is right around the corner.
Oh, and I highly recommend this series on audio. The narrator is brilliant.
What are you guys excited about? Leave me a link and I'll drop by.