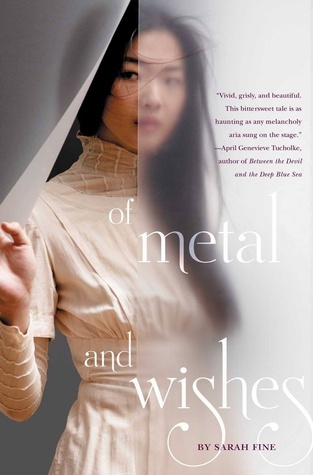 Author: Sarah Fine
Series: Of Metal and Wishes, #1
Published: August 5th 2014
Publisher: Margaret K. McElderry
Format: Hardcover, 320 pages
Source: Publisher for review
Buy: Amazon
There are whispers of a ghost in the slaughterhouse where sixteen-year-old Wen assists her father in his medical clinic—a ghost who grants wishes to those who need them most. When one of the Noor, men hired as cheap factory labor, humiliates Wen, she makes an impulsive wish of her own, and the Ghost grants it. Brutally.

Guilt-ridden, Wen befriends the Noor, including their outspoken leader, a young man named Melik. At the same time, she is lured by the mystery of the Ghost and learns he has been watching her … for a very long time.

As deadly accidents fuel tensions within the factory, Wen must confront her growing feelings for Melik, who is enraged at the sadistic factory bosses and the prejudice faced by his people at the hand of Wen's, and her need to appease the Ghost, who is determined to protect her against any threat—real or imagined. She must decide whom she can trust, because as her heart is torn, the factory is exploding around her … and she might go down with it.
There is a ghost in the slaughterhouse. I kid you not. After our time in Suicide City with Lela Santos, this is where Sarah Fine chose to send us. A slaughterhouse. With a ghost inside. Can someone please give me a hug?
Of Metal and Wishes promised to be a terrifying and strangely beautiful story and it certainly delivered. It is practically unputdownable; once the atmosphere envelops you, the only way out is through the last page, and you have no choice but to go there. Fine's writing is beautiful and lyrical and her prose flows effortlessly. It is both different from her previous works and similar in that it clearly shows the enormity of her talent and the richness of her imagination.
While Fine's world has a distinctly Asian flavor, it's best to keep in mind that it has no direct links to our world. I like my fantasies elaborate and far removed from anything familiar, but getting inspiration from Asian culture worked very well for Sarah Fine. Her world may not be the most detailed or clearly presented, but she gave us all the information we needed, and set an excellent foundation for the fabulously creepy atmosphere.
And it's precisely this atmosphere that will leave readers enchanted. The slaughterhouse, where every nook and cranny is not only unexplored, but also extremely dangerous, provided an excellent setting for this story. We as readers are quickly transported to this place of dirt and blood, filled with loud noises and awful smells, that is somehow strangely beautiful as well.
Of course, even the worst of places (and the haunted slaughterhouse certainly qualifies) can be made beautiful simply by the pleasure of Wen's company. Fine excels in creating fabulously well-rounded characters and Wen is perhaps my favorite so far. We see some growth in this book as she makes peace with her new reality, one where a young girl has few uses and none of them good.
I started
Of Metal and Wishes
last night and finished it a few hours later, trembling, teary-eyed and shaken to the core. The open, somewhat ambiguous ending was easier to bear once I learned that there is a sequel planned, scheduled for release in August 2015.
A copy of this book was kindly provided by the publisher for review purposes. No considerations, monetary or otherwise, have influenced the opinions expressed in this review.