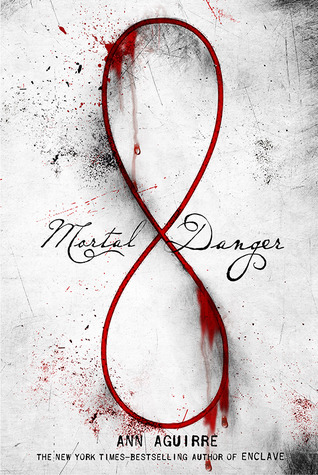 Author:
Ann Aguirre
Series: Immortal Game, #1
Published: August 5th 2014
Publisher: Feiwel & Friends
Lenght: 384 pages
Buy: Amazon
Revenge is a dish best served cold.

Edie Kramer has a score to settle with the beautiful people at Blackbriar Academy. Their cruelty drove her to the brink of despair, and four months ago, she couldn't imagine being strong enough to face her senior year. But thanks to a Faustian compact with the enigmatic Kian, she has the power to make the bullies pay. She's not supposed to think about Kian once the deal is done, but devastating pain burns behind his unearthly beauty, and he's impossible to forget.

In one short summer, her entire life changes, and she sweeps through Blackbriar, prepped to take the beautiful people down from the inside. A whisper here, a look there, and suddenly... bad things are happening. It's a heady rush, seeing her tormentors get what they deserve, but things that seem too good to be true usually are, and soon, the pranks and payback turns from delicious to deadly. Edie is alone in a world teeming with secrets and fiends lurking in the shadows. In this murky morass of devil's bargains, she isn't sure who—or what--she can trust. Not even her own mind...
In my experience, all the best books come from the most genuine of places. Of course, fiction is always fiction and I wouldn't want it any other way, but the underlying emotion has to be honest. Authors don't always draw from acquired knowledge and experience; after all, their characters can have a very different set of values, but the very best authors rely on emotions that are familiar and true.
Among such authors, Ann Aguirre is queen.
In the interest of full disclosure, I was a beta reader for this book. (It's hardly a secret, just check the acknowledgments.) I saw its birth firsthand and I know how much it took from Ann. She is the type of author who always feels everything right alongside her characters, so when Edie suffered, Ann suffered as well.
That said, it's almost impossible to read Edie's story and remain cold-hearted. Regardless of who you are, an author, a beta reader, a regular reader or a witch's familiar, you will be deeply touched by this girl. Suicide is no laughing matter, and these days, when we see more and more of it, strong messages of hope are more important than ever. As Edie herself said,
It Gets Better Project
is extremely important, but it only gets us so far. It is my firm conviction that fiction we care about can take us the rest of the way.
I've seen people complain about the importance that is placed on physical beauty in this book. But to a girl who's been bullied most of her life because she doesn't look like everyone else, a girl who's been abused and suffered things no one ever should, beauty seems like the solution to all her problems. In the end, I admired Edie for seeing past outer beauty, her own and that of others, especially Kian. It means much more when someone like her realizes the insignificance of superficial things.
There are, of course, parts of
Mortal Danger
that are pure, undiluted entertainment. The second part of the book will appeal to lovers of all things creepy. I myself am a big fan of nightmare-ish creatures and urban legends, so when Ann decided to bring them to life, I was basically a kid in a candy store. Here's a small taste for you:
Across the street, I saw the old man with the bag, and it bulged with a new and hideous weight. Beside him stood the two black-eyed children. The girl-thing's pinafore was smeared with blood.
*shudders*
Make sure to read Ann's Author's note and please be kind and smart enough to listen. Most of us have had (or are still going through) similar experiences, and if not to that extent, we're certainly none of us strangers to emotional pain.
And now for the news. Starting today, I'll choose a favorite quote every week and post it on Saturday. I don't usually post on Saturdays (a girl needs her day off) but there won't be much writing for this new feature, and my beautiful, brilliant sister-in-law has agreed to help me. She's the one responsible for my WoW banner, our gorgeous (upcoming) Something Wicked Strikes banners and buttons, and most other pretty things you see on this blog. I'm responsible for the ugly parts. Duh.
So first she did this loveliness for me, and I do hope you like it, you'll be seeing it every week! She'll do a poster with my favorite quote every Saturday, and I'll post it here for you. She's a trained professional so I'm leaving you guys in good hands.
For this week, I picked a quote from Mortal Danger. There were so many to choose from, but I decided to go with something creepy and gorgeous, just like the book itself.
There you go! I think the creepy elegance of it fits this book perfectly. I really hope you like it.