Hello, everyone!
Today I have the great honor of hosting Lori M. Lee on my blog. Lori is the author of a fascinating debut, one I'm sure you've already heard very much about, and probably even read. If not, you can learn all the important details here and maybe even win a hardcover copy of the book.
Here are a few details about the book first: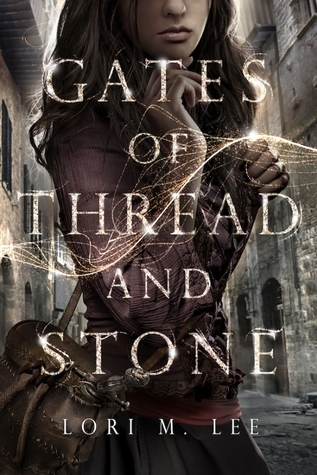 Author: Lori M. Lee
Series: Gates of Thread and Stone, #1
Published: August 5th 2014
Publisher: Skyscape
Format: Hardcover, ebook
Buy: Amazon
In the Labyrinth, we had a saying: keep silent, keep still, keep safe.

In a city of walls and secrets, where only one man is supposed to possess magic, seventeen-year-old Kai struggles to keep hidden her own secret—she can manipulate the threads of time. When Kai was eight, she was found by Reev on the riverbank, and her "brother" has taken care of her ever since. Kai doesn't know where her ability comes from—or where she came from. All that matters is that she and Reev stay together, and maybe one day move out of the freight container they call home, away from the metal walls of the Labyrinth. Kai's only friend is Avan, the shopkeeper's son with the scandalous reputation that both frightens and intrigues her.

Then Reev disappears. When keeping silent and safe means losing him forever, Kai vows to do whatever it takes to find him. She will leave the only home she's ever known and risk getting caught up in a revolution centuries in the making. But to save Reev, Kai must unravel the threads of her past and face shocking truths about her brother, her friendship with Avan, and her unique power.
Hi Lori! It's so nice of you to stop by! Let me just say that I adored Gates of Thread and Stone. I can be difficult and picky sometimes, which my readers well know, but I have no bone to pick with you. My opinion aside, are you satisfied with the initial reactions?
Thank you for having me! I'm so happy to hear you enjoyed the book. From what I haven't been able to avoid seeing, the initial response has been great, so yes, I'm satisfied :)
2.
Let's clear up a common misconception: is there any time travel in GoTaS? Why do people come to this conclusion?
Thank you for mentioning this! There's no time travel in Gates of Thread and Stone. The summary doesn't say anything about time travel, but it does mention manipulation of the threads of time. So I understand why people make this assumption. But readers learn from the very first chapter that there are limitations to Kai's powers. There are laws that all magic users must obey, and time travel would be a huge violation. If Kai could travel through time, it would make her problems far too easily surmountable!
3.
Kai has learned to survive in the Labyrinth, a violent part of town that has very little mercy for the softhearted and kind. How do you think you'd survive in such a place? Are you a resourceful person?
I like to think I'm resourceful, but the reality is that I'm probably not, haha. My street smarts are almost nonexistent. Plus, I'm that clumsy person who trips on her own feet and walks into walls for no apparent reason. I doubt I'd last very long in Ninurta.
4.
How would you describe Kai, Avan, and Reev in five adjectives or less for each?
I'll do it in three! ;) Kai: tough, loyal, and naïve. Avan: daring, guarded, and driven. Reev: resolute, patient, and cautious.
5.
If you could have one magical ability, what would it be?
Invisibility. That would be excellent. I would totally abuse my power, though, so it's best I never get this ability lol.
6.
Did you always plan for more than one book? What can we expect from the sequel?
Yes, Gates of Thread and Stone was always meant to be the first in a series. I could have worked it into a standalone if necessary. But I'd hoped I wouldn't have to, and fortunately, I don't! In the sequel, you can expect to see Kai discover more about the world beyond the Outlands and how much she has left to learn about her own powers.
Thank you so much for joining us!
About Lori:
Lori is an avid writer, reader, artist, and lover of unicorns. She should probably spend less time on the internet (but she won't). She has a borderline obsessive fascination with unicorns, is fond of talking in capslock, and loves to write about magic, manipulation, and family. She lives in Wisconsin with her husband, kids, and a friendly pitbull.
Giveaway time!
You can enter to win a hardcover copy of Gates of Thread and Stone. I've made entering as easy as possible for you. Oh, and apologies to my international readers, but this giveaway is US only.
Good luck to you all!
a Rafflecopter giveaway