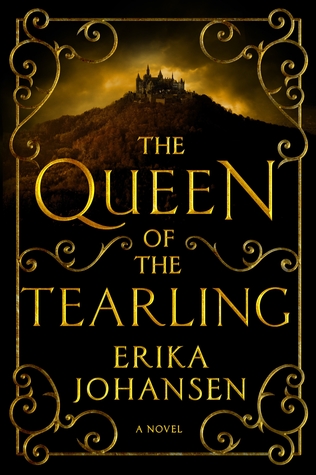 Author: Erika Johansen
Series: The Queen of the Tearling, #1
Published: July 8th 2014
Publisher: Harper
Format: Hardcover, 448 pgs
Source: Publisher for review
Buy: Amazon
On her nineteenth birthday, Princess Kelsea Raleigh Glynn, raised in exile, sets out on a perilous journey back to the castle of her birth to ascend her rightful throne. Plain and serious, a girl who loves books and learning, Kelsea bears little resemblance to her mother, the vain and frivolous Queen Elyssa. But though she may be inexperienced and sheltered, Kelsea is not defenseless: Around her neck hangs the Tearling sapphire, a jewel of immense magical power; and accompanying her is the Queen's Guard, a cadre of brave knights led by the enigmatic and dedicated Lazarus. Kelsea will need them all to survive a cabal of enemies who will use every weapon—from crimson-caped assassins to the darkest blood magic—to prevent her from wearing the crown.

Despite her royal blood, Kelsea feels like nothing so much as an insecure girl, a child called upon to lead a people and a kingdom about which she knows almost nothing. But what she discovers in the capital will change everything, confronting her with horrors she never imagined. An act of singular daring will throw Kelsea's kingdom into tumult, unleashing the vengeance of the tyrannical ruler of neighboring Mortmesne: the Red Queen, a sorceress possessed of the darkest magic. Now Kelsea will begin to discover whom among the servants, aristocracy, and her own guard she can trust.

But the quest to save her kingdom and meet her destiny has only just begun—a wondrous journey of self-discovery and a trial by fire that will make her a legend…if she can survive.

The Queen of the Tearling introduces readers to a world as fully imagined and terrifying as that of The Hunger Games, with characters as vivid and intriguing as those of The Game of Thrones, and a wholly original heroine. Combining thrilling action and twisting plot turns, it is a magnificent debut from the talented Erika Johansen.
There's something to be said about books that take you completely by surprise, grab you with their first few words sometime late in the evening and refuse to let go until the very last page, when you, bleary-eyed but elated, finally go to sleep already thinking about the next installment. The Queen of the Tearling came to me in a month when I had little time and even less patience for fiction, and yet it held my attention from start to finish, leaving me thrilled and completely breathless in the end.
The pacing was a bit slower than expected, but I for one thoroughly enjoy a worldbuilding well thought-out, even when there were things I wished were done differently.
Queen of the Tearling
is high fantasy with roots in modern society, which makes it unique but also a bit confusing. It's an interesting blend of old customs and new technology that sometimes worked and sometimes bothered me greatly. I would have preferred a simple historical fantasy, or even some straightforward futuristic world, but this blend of the two didn't always sit well with me.
Johansen took her time with Kelsea and her closest companions, giving them layer upon layer of complex personality, but at the same time she completely neglected her villain, Kelsea's uncle, who was almost cartoonish in his heartless stupidity. Truth be told, a villain can make or break a book, but in this case, with everything I admired about
Queen of the Tearling
, I found that I didn't mind this fault too much.
I did feel that Kelsea's physical appearance was somewhat exaggerated in the attempt to give more weight to her inner strength. Something similar was initially done to Elisa in
The Girl of Fire and Thorns
but to an even larger extent. Kelsea constantly struggles with her looks and her weight, which I suppose adds a layer to her character and makes her seem more human, but it's something I could have certainly done without. A girl can be smart and brave and resourceful and be quite ordinary on the outside, not too pretty and certainly not quite so unattractive. And it wasn't just Kelsea's distorted self-image we were dealing with; other people never hesitated to tell her that she looks nothing like a queen.
Queen of the Tearling
has no more than a hint of romance, a stray thought here and there, an occasional yearning for someone completely out of reach. As a romance girl through and through, I would normally be very bothered by this, but this fabulous story, well plotted and nearly flawlessly executed, left no room for wishes and regrets.
This is a story I'm quite eager to continue. Even with a few faults that I'm sure will be fixed later on, it's the best fantasy I've read in a good long while. The second book hasn't even been properly announced and I'm already impatient to get my greedy little hands on it.
A copy of this book was kindly provided by the publisher for review purposes. No considerations, monetary or otherwise, have influenced the opinions expressed in this review.