Only two days left, people! Is everything ready? Are your affairs in order? Did you say your good-byes? Hopefully the end won't be to painful, but I know I'll miss you guys. This past week has been such an amazing experience.
Today, I welcome Misty Provencher, author of the Cornerstone series. Misty is a great writer and an all-around awesome individual. The more I talk to her, the more I like her, and her books are different, well-written and totally addictive. I asked Misty to join us today and she didn't even hesitate, even though she was on vacation at the time. So instead of rambling on, I'll let you enjoy her lovely post.
Top 5 Snacks to Bring to Your Friendly Neighborhood Apocalypse
1. TWINKIES, OF COURSE.
This is a no-brainer, which is a real drag if we happen to be talking Zombie Apocalypse. Twinkies were before their time and nearly CAUSED an apocalypse recently when Hostess temporarily decided to yank them from production. These snacks are portable (for on-the-go survivors), soft (if partygoers have lost their teeth due to radiation), easy to hide from others in a pocket, their taste and nutritional value remains unaffected when mashed in their wrapper, and these heavenly, golden non-food items will never expire. If you happen to have the good fortune of working in a Twinkie factory at the time that world chaos breaks out, I suggest you slam the doors on civilization and throw the Twinkie-making machines against them. Barricade yourself in the one commune that offers the opportunity of mass-producing your non-food sustenance for years to come. Hell, under those circumstances, you could get quite a trade system going and might even have the opportunity to Twinkie yourself into a formidable empire.
On the other hand, if you are simply attending a post-apocalyptic or a verge-of-the-apocalypse event, Twinkies again are the most suitable, event appropriate snack that will be enjoyed by any partygoers that might show up for the festivities, human or cockroach. And you can get them with festive green filling that Apocalypse survivors will appreciate!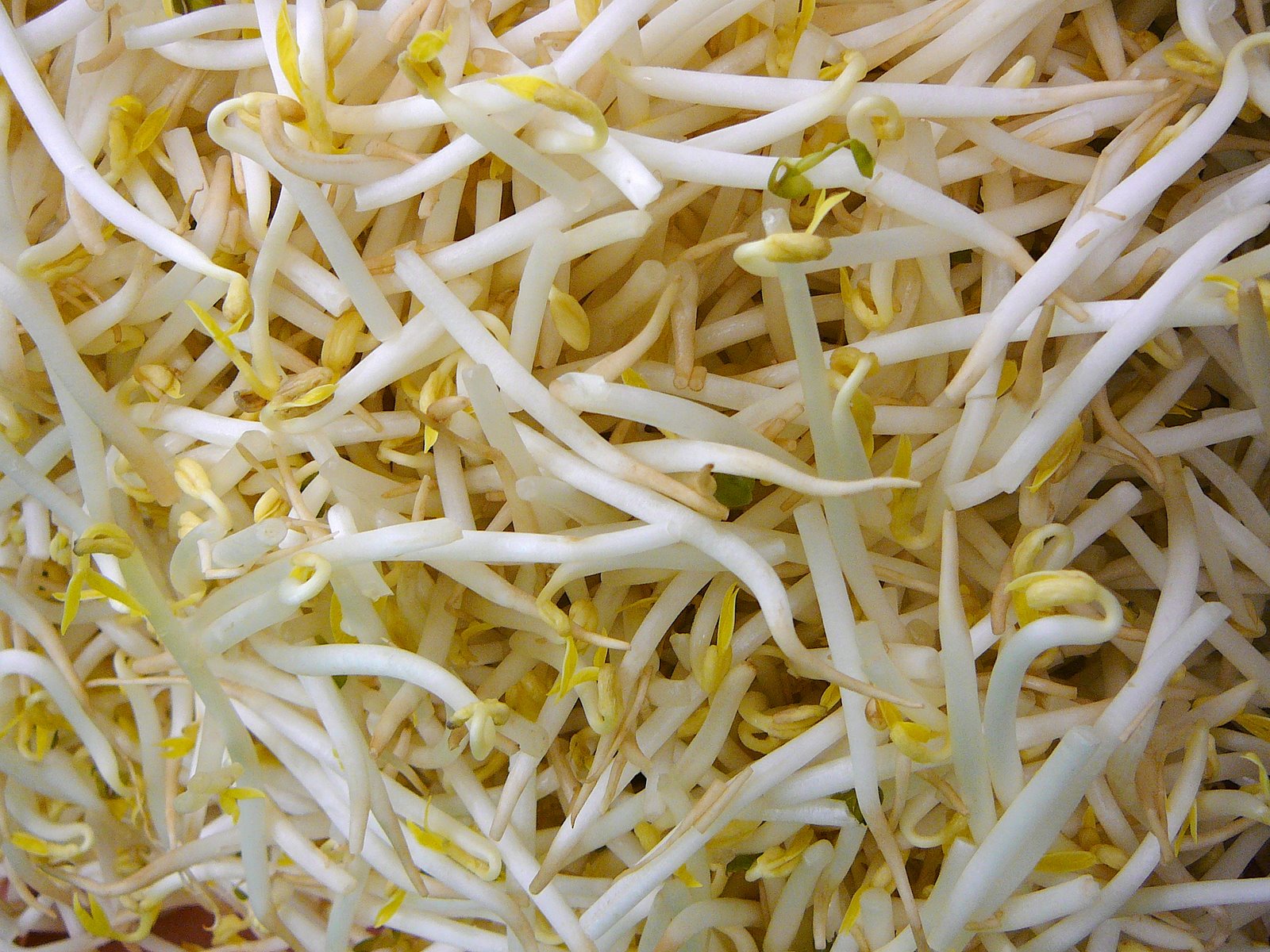 2. BEAN SPROUTS
This is your safest bet ever. Ain't nobody gonna steal your bean sprouts out from under you, no matter how hungry they might ever be or might get. Let's face it…folks'll kill you faster than an asteroid shower if they find out you've got Twinkies, but if you're armed with bean sprouts? Baby, you can walk the streets eating to your heart's content.
3. SURPLUS BRAINS
This one's tricky. If you aren't sure about which sort of apocalypse you're involved in, you might want to stock up on brains to be on the safe side. Remember, variety is appreciated. Hamster and gerbil brains should be carried in quantity, like mixed nuts. The self-inflated, flabby brains of the scientists and/or weather men that inappropriately predicted your particular apocalypse would also be a great choice. The best choice. The most sought-after delicacy, in fact, even if there is no Zombie apocalypse.
4. CHOCOLATE SAUCE
Chocolate sauce is a flexible little condiment that can make any of your Apocalyptic snack choices all the rave. Throw some sauce on Twinkies and you have a tasty dessert; swirl them into bean sprouts and you can almost pretend you're not actually eating sprouts; chuck them on a bowl of brains and now you've got a party. Chocolate sauce takes the Apoca out of your lypse and replaces it with a pure, fountain of goodness.
5. A FRIEND
Your friends might not appreciate the invite, but I assure you, they never have to know. Just invite them along on your journey into the Post Apocalyptic landscape! It's always best to bring a friend, who might serve as a portable snack for you or for others, as you run away. And don't' forget: a good friend can go a long way!
Thanks so much for having me along for some fun, Maja!
About Misty:
Once a high school drop out and runaway, Misty Provencher became a college grad, and is now a full-time novelist with a close knit family. She doesn't do labels well. While she can ride a motorcycle, knows how to Karate chop, and has learned enough French, Spanish, and Sign Language to get herself slapped, Misty's life is the ruse she uses to connect with people. She is totally enchanted with them and spends her days trying to translate the soul bouquet of her muses into words.
Misty Provencher lives in Michigan. Knock on her internet blog door at: Misty Provencher's Books, http://mistypro.blogspot.com/ or find her on Facebook and Twitter as Misty Provencher.
Giveaway time! One winner will receive Cornerstone and Keystone ebooks, gifted from Amazon. This giveaway is international, and trust me when I tell you, you WANT to read these books. I love them so, so much. Good luck, everyone!