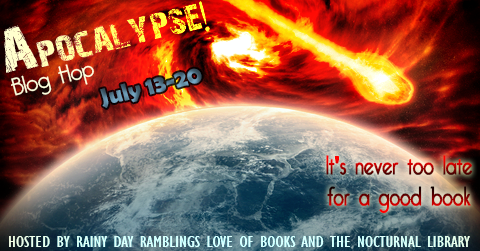 Hi everyone and welcome to the Apocalypse! blogging event, hosted by myself, Heidi @ Rainy Day Ramblings and Christy @ Love of Books. I took great joy and pleasure in organizing the following week with these two lovely ladies and I sincerely hope you'll enjoy the upcoming posts as well. Each day, there will be guest posts, author interviews and reviews of apocalypse-themed books, and each will be accompanied by a giveaway.
We're opening the event with a giveaway hop. I'm a bit surprised and more than a little touched by the sheer number of our fellow bloggers who signed up to join the fun. Thanks to every one of you guys.
We hope you'll find something you like on each blog. The schedule for the upcoming week at The Nocturnal Library is this:
July 14th: Jay Kristoff (Stormdancer, Kinslayer) guest post and giveaway
July 15th: Phoebe North (Starglass) guest post and giveaway
July 16th: Tim Marquitz (Demon Squad series) guest post and giveaway
July 17th: Mira Grant (Feed, Parasite) guest post and giveaway
July 18th: Teri Terry (Slated, Fractured) guest post and giveaway
July 19th: Rhiannon Frater (The Last Bastion of the Living)
July 20th: Alden Bell (The Reapers Are the Angels) guest post and giveaway
All of these authors are personal favorites and I honestly hope you'll discover something new to love trough my efforts.
And now, onto the giveaway. Here's what you can win in the hop:

This giveaway is, of course, INTERNATIONAL, i.e. anywhere The Book Depository ships.
a Rafflecopter giveaway