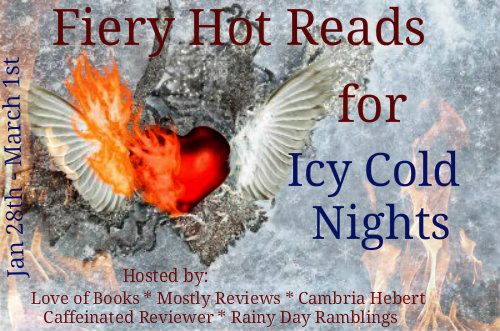 Welcome to my second Fire & Ice post! Just three weeks ago, I had the pleasure of welcoming Stacia Kane to my blog (you can read her
thoughts on Chess and Terrible here
), and today I'm thrilled to be able to share with you a post by Ann and Andres Aguirre about their new book, Bronze Gods. Fiery Hot Reads for Icy Cold Nights blogging event is all about the romance, so they each wrote a few things about the growing attraction between their two heroes, Janus Mikani and Celeste Ritsuko. But here's something about the book first:
Expected publication: April 30th 2013 by Ace

Danger stalks the city of steam and shadows.
Janus Mikani and Celeste Ritsuko work all hours in the Criminal Investigation Division, keeping citizens safe. He's a charming rogue with an uncanny sixth sense; she's all logic—and the first female inspector. Between his instincts and her brains, they collar more criminals than any other partnership in the CID.

Then they're assigned a potentially volatile case where one misstep could end their careers. At first, the search for a missing heiress seems straightforward, but when the girl is found murdered—her body charred to cinders—Mikani and Ritsuko's modus operandi will be challenged as never before. Before long, it's clear the bogeyman has stepped out of nightmares to stalk gaslit streets, and it's up to them to hunt him down. There's a madman on the loose, weaving blood and magic in an intricate, lethal ritual that could mean the end of everything…
Ann
So I've been asked to write a bit about the relationship between Mikani and Ritsuko in Bronze Gods. Sexual tension is the name of the game in this novel; their relationship is what I call a slow burn... because they were partners first, simple work associates. Early on, Ritsuko thought Mikani was a reckless, rule-breaker, and she considered his investigative process to be sloppy. In some regards, she thought she'd have to succeed in spite of him. However, as time wore on, she came to appreciate and respect his methods, even though they're different from her own. Eventually they became friends who shared personal confidences; it became a game for Mikani to tell Ritsuko about his relationships... and his breakups.
By the time the book begins, they've achieved a close friendship. Then the intense nature of the case and the pressure they're under over the course of the investigation results in an even deeper emotional connection. In fact, as the book ends, Ritsuko has finally realized how much Mikani means to her. She's definitely in love with him, but she sees it as unrequited and hopeless. It would just be awkward if she revealed her feelings, so she's determined to be a friend to him and a partner and not complicate things so as to impede their professional performance. It can be difficult to keep sexual tension crackling and taut; you have to time the consummation perfectly, or the reader will get annoyed and tired of waiting. Now I'll turn things over to Andres, so you can get his thoughts and learn what's going on with Mikani.
Andres
By the time Ritsuko was assigned as his partner, Mikani had more or less given up on playing well with others: his methods and temper had him on the verge of dismissal from the force. Ritsuko's cool demeanor and persistent dedication—so different to the usual alpha games men play—were a perfect complement to his methods and temperament. He grew to respect her, and eventually to befriend her. Their partnership quite literally saved his career, and in all likelihood, his sanity.
As the book begins, Mikani trusts Ritsuko with his life. Over the course of the novel, he comes to realize that he trusts her with much more than that. Only one other person has ever been truly close to him, but he's never let anyone in deeper than he has Ritsuko. He's uncertain of how to handle this level of intimacy: his partnership with Ritsuko brought some much needed order into his life, and this realization threatens that stability: all his relationships have ended more or less explosively to date, and he's not ready to lose Celeste.
It will definitely be interesting to discover how and when the slow burn ignites.
Ohh, yes, that will be interesting! We all love a slow burning romance, and this one is off the charts. But that's not the only thing I loved about this book. The worldbuilding is fantastic, the plot is intricate, and the clockwork... nope, I won't even go there. I'll save it for my review, just a bit closer to the release date.
What I will do is give away two pre-orders of Bronze Gods from The Book Depository. Just fill out the Rafflecopter below and keep your fingers crossed. The release date is just a day before my birthday and chatting about this book with you guys is how I want to spend it. :)
Good luck to all.
a Rafflecopter giveaway