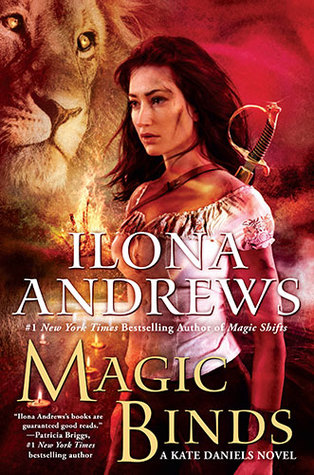 #1 New York Times bestselling authors, the husband-and-wife team writing under the name Ilona Andrews, have kept us entertained and thoroughly invested in their stories for many, many years. Now that their latest book,
Magic Binds
, has hit the shelves, they kindly stopped by to answer a few questions.
Dear Ilona and Gordon, welcome to The Nocturnal Library. Thank you so much for agreeing to this interview. I solemnly swear never to ask you about writing together.
The world of Kate Daniels is built on an interesting premise of magic and technology coexisting and constantly trying to balance each other out. Plenty of urban fantasy series had their rules changed along the way, but you've never done that. Kate's worldbuilding has been rock solid from the start. Did you ever wish to have done something differently or needed something (for the plot) that the world just couldn't provide?
A)
Thank you. We've tried to be consistent. In the beginning I don't know that we really had all the rules worked out. Once we did, probably by the second or third book, I think it actually made it easier for us. We knew what was possible, what we could get away with and what was impossible in that setting. One thing we have to watch is the magic waves, sometimes when writing a scene, we have to figure out if the magic is up or down. The closest we've come to bending or breaking the rules was Magic Slays where we introduced a technology capable of permanently removing magic from the land. We had to decide if such a thing were possible and how it would affect magical beings living in the area.
Your books leave no doubt about the amount of research you put into them. World mythologies seem to be your playground and you always introduce at least one obscure mythological creature for Kate to fight. How do you choose them? Can you explain the process and the criteria?
A)
We started with what we were already familiar with. That's why it's Slavic myths in Magic Bites and Celtic in Magic Burns. Ilona being Russian knows all the old fairy tales and we'd never seen an Upir in contemporary English fiction so we thought it might be interesting to have one. Being giant fans of both the comic character Slaine and David Gemmell'sRigante series we wanted to play a bit with Celtic legends. For Magic Strikes, Rakshasas seemed like a good choice of villains, they're shapeshifters but not like ours who are infected by a strain of lycanthropy. What few people know though is that an early version of Magic Bites had a dwarf in it. Like a full out D&D, Tolkien type dwarf. Or that one of our first books, one that will never, ever be published, had hobbit ninjas. We just thought it was cool. I wish I could say there was more to it than that but most of the time we put in things we would like to read about that we don't see a lot of.
What's the weirdest thing you've ever googled during research?
A)
Lord, so much. Now we have to look at our search history. Ummm, poisoning, kidnapping, evil names, a lot of Fallout 4 settlement stuff. Here's the weirdest, probably "Governors who've been assassinated?" That was for the Hidden Legacy series.
You are known for your strong online presence and for being extremely good to your fans? Is that a double-edged sword sometimes? It's impossible to keep everyone happy and people can be rather vocal. How do you handle complaints and/or various requests? Were there any weird interactions you'd be willing to share?
A)
Let me preface this by saying that 99.9 percent of our fans are great. They've supported us from the beginning of the series and stuck by us through it all. However, as you've stated, you can't please everybody. All we can do is write the book we want to read and hope people like it. The most common complaints we hear are about the covers, which personally, I've almost always liked, or the price of the books. In both cases, we can honestly say we have little to no control over those things. We don't sell them, we just write them.
Let's talk about Magic Binds. First of all, I can tell you that I've already read it twice and that it surpassed my wildest expectations. It's an amazing book and perhaps my favorite thus far. Which of the nine was the hardest to write? And do you have a favorite?
A) Thank you so much, we're glad you liked it. Maybe Magic Burns because we didn't really expect there to be a second book. What if we were afflicted by the sophomore slump curse and it sucked and they didn't want a third? I think the conversation went along the lines of they're publishing the first but they want a second. Oh man, what are we going to do? It has to be better than Magic Bites and the final battle has to be bigger. Maybe also Magic Rises because we took Kate and the gang out of our usual setting. We had to decide who would go, what the world outside of Atlanta or even the US was like, and most importantly we decided to kill off Aunt Bea. That was a hard conversation to have. As I recall, we were loading the dishwasher and as the debate raged, things were loaded with increasing force. It was probably the closest we've come to having a fight over the books. Well, a disagreement, not a knock down drag out row.
For me, Magic Binds was about characterization, or more specifically, the shades of gray in Kate's family. We finally understand a bit more about the worldview of someone who's been around for millennia. But even Kate undergoes major changes. Was it hard to put her through that? Change some parts of her character that we've started taking for granted?
A)
Yes, but we felt it was necessary. Even as recently as Magic Breaks, she wasn't ready to fight Roland head on. She knew that. To even begin to rival him in power she needed to stop holding back and embrace her magic. The risk with that of course is the temptation to become like him. She had to find her own way to deal with it. She also needed some training, which is a part we really enjoyed putting into the book. I guess we had to decide how dark she would get or far we could let her go before we pulled her back from the edge.
It's so hard to understand Roland, and even harder to figure out his endgame. Magic Binds clears out some of the fog, but there are still so many questions. Did you ever change your mind about his intentions and motivations or was he clear to you from the start? How do you think he sees Kate?
A)
I think he evolved over time from an idea to a fully realized character. For the first few books, all we know of Roland is what Kate was told of him. That he killed her mother and wanted to kill her.
All of which is true. What we didn't know was how very much he loved them both. More than the he has loved anyone or anything. From the beginning we knew who he was, historically, but not much else. I think the image of the long suffering father of a rebellious daughter, which of course is how he seems himself, came later. He is proud of her, of all that she's accomplished on her own, but in his mind she's had her fun and now it's time to come home and take her place in the family business. If he has to kill every single man, woman and child in Atlanta to make her understand this, he will.
By far the most interesting and morally challenging part of Magic Binds are the sahanu. What can you tell us about them (and what inspired them) without it being spoilerish?
A)
Well, Roland is a paranoid megalomaniac with god-like power, it makes sense that he would have his own cult of killers. We watched a lot of Ancient Assassins and we both thought, wow, that seems like something he would want. We should put some of that in the book. I don't think that's too spoilery.
The mystery of Christopher is finally unraveled in Magic Binds. I don't think anyone could have guessed his origins. Without actually revealing it, did you know when you put him in that cage and on Kate's path? Or did he develop along the way?
A)
We didn't know who he was, or even what he had done to anger Roland. We only knew that he had once been immensely powerful and now he was broken. The old saying is that if you have a gun in the first act, it has to go off in the third, so that's what we did. We knew that he could fly, just that he had forgotten how. I don't know if anyone got it but it's also a nod to the late Douglas Addams who in the Hitchhikers Guide to the Galaxy said "There is an art to flying, or rather a knack. Its knack lies in learning to throw yourself at the ground and miss. ... Clearly, it is this second part, the missing, that presents the difficulties."
With nine books behind you and only one more to go, what are your thoughts on the series? Did you accomplish everything you set out to do?
A)
A mix of sadness and relief. I hope so because we have no idea what to do in the next one. We have to give it a satisfying ending but leave the door open for a spin off series. What I can say is that it will be a proper ending, no cliffhangers, no ambiguity. Kate and Curran will get their happily ever after. They've earned it.
Finally, I have to ask: is there any chance for more Kate books or is book 10 definitely the last we'll see of Kate and Curran?
A)
Oops, may have answered too much of this in the one above. Book 10 will be the last Kate book but if there is a spin off series they will appear. It won't be their book but they will be in it. We want to do a Hugh book and of course we've talked about continuing the series with an older Derek and Julie.
Thank you once more! T
hank you for having us.
Every little blogger dreams about interviewing his or her favorite author. For me, that was always Ilona Andrews, and my day has finally arrived. I'm pretty much done now, I can retire and read the 1852938593 books on my tbr list in peace.