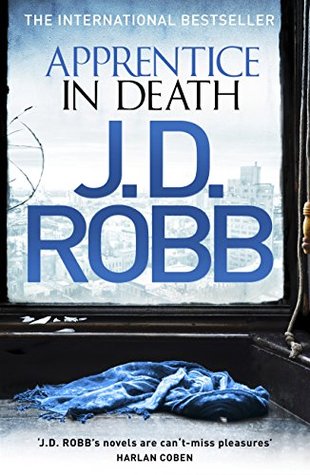 Author: J.D. Robb
Series: In Death, #43
Released: September 6th 2016
Publisher: Piatkus
Length: 400 pages
Source: Publisher for review
Buy: The Book Depository
The shots came quickly, silently, and with deadly accuracy. Within seconds, three people were dead at Central Park's ice skating rink. The victims: a talented young skater, a doctor, and a teacher. As random as random can be.

Eve Dallas has seen a lot of killers during her time with the NYPSD, but never one like this. After reviewing security videos, it becomes clear that the victims were killed by a sniper firing a tactical laser rifle, who could have been miles away when the trigger was pulled. And though the locations where the shooter could have set up seem endless, the list of people with that particular skill set is finite: police, military, professional killer.

Eve's husband, Roarke, has unlimited resources - and genius - at his disposal. And when his computer program leads Eve to the location of the sniper, she learns a shocking fact: there were two-one older, one younger. Someone is being trained by an expert in the science of killing, and they have an agenda. Central Park was just a warm-up. And as another sniper attack shakes the city to its core, Eve realizes that though we're all shaped by the people around us, there are those who are just born evil...
Apprentice in Death
, the 43
rd
installment in Nora Roberts' wildly successful In Death series, won't leave a single fan disappointed. By now we've learned to expect only the best from this series and only the best is precisely what we always get. When a series has been successful for over 20 years, every new installment is pretty much a safe bet.
In Apprentice in Death, Eve hunts a LDSK (long-distance serial killer) – a laser sniper killing from a distance. The victims seem like random choices, but Eve senses a deeper motive in the killings. She quickly familiarizes herself with weapons and tactics while also assessing the targets and doing what she does best – entering the minds of killers. Eve has an uncanny ability to connect with killers, and she uses it rather well. Every now and then, Robb allows just a touch of paranormal into the series and it's becoming quite obvious that there's something supernatural to Eve's talents. She sees murders unfold with little evidence and she can put herself completely in any killer's place and fully understand their thoughts, emotions and motivations.
While the killings aren't as bloody and messy as they sometimes can be, the killer is one of the worst in the series, difficult to accept and process. Their identity isn't difficult for Eve to discover, but catching them with minimal loss of life is a whole different matter. Once again Eve has to be smarter, faster and more intuitive to outwit and capture a danger to her beloved city.
The frenzied hunt leaves little room for personal things, not only between Eve and Roarke, but also between Eve and her friends. I missed seeing her interact a bit more with people like Mr. Mira, Mavis or Leonardo, but Robb gave us just enough with Bella's birthday celebration to keep us satisfied.
Each new release by J.D. Robb is considered a holiday in my house, and probably thousands of other homes around the world. Today is that day, my friends. Join the horde, grab a copy and enjoy.
A copy of this book was kindly provided by the publisher for review purposes. No considerations, monetary or otherwise, have influenced the opinions expressed in this review.