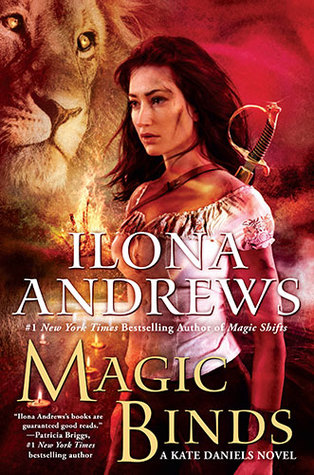 Series: Kate Daniels, #9
Released: September 20 2016
Publisher: Ace
Length: 384 pages
Source: Publisher for review
Mercenary Kate Daniels knows all too well that magic in post-Shift Atlanta is a dangerous business. But nothing she's faced could have prepared her for this…

Kate and the former Beast Lord Curran Lennart are finally making their relationship official. But there are some steep obstacles standing in the way of their walk to the altar…

Kate's father, Roland, has kidnapped the demigod Saiman and is slowly bleeding him dry in his never-ending bid for power. A Witch Oracle has predicted that if Kate marries the man she loves, Atlanta will burn and she will lose him forever. And the only person Kate can ask for help is long dead.

The odds are impossible. The future is grim. But Kate Daniels has never been one to play by the rules…
Magic Binds, the ninth (and apparently second-to-last) installment of Ilona Andrews' Kate Daniels series is quite possibly this author's best work to date. At this point, it's very difficult to separate, compare or evaluate each individual book, but Magic Binds challenges our beloved characters in all new ways and adds a lot to the already spectacular characterization. The sheer quality of these books sets them apart from anything even remotely similar.
Kate is pushed to her limits in Magic Binds, not just by her father, but by her magic as well. More than any other book in the series, this one centers on characterization and shades of gray within Kate's family. With her father so close, a constant threat on the borders of Atlanta, Kate's power is developing rapidly. Each day she discovers some new ability and it's affecting her in ways none of us could have predicted. As Curran at one point says, Kate is the least power-hungry person he knows, but power corrupts even if you never wanted it in the first place.
For those of you who were wondering about Christopher and his origins, answers are finally here! We get to learn his history, how his mind came to be broken and why he attached himself to Kate and her people. Aside from discovering his past, we finally scratch the surface of his relationship with Barabas, which seems to be very complex. This was something I've been wondering about for quite a while and although there's still some room for speculation, we now have a much clearer picture.
As the end approaches, the pressure on Kate is growing, the need to fight her own blood inside and out is becoming ever stronger. Everything she does reveals more truths about her father and the more she knows, the more she's determined to stop him. Kate's family is always behind her, even though there are friends who aren't. It's gorgeous to see how much understanding there is between her and Curran and how they support each other even through bold and risky moves.
With just one more book left, every word in Magic Binds is extremely important. Each event leads to something bigger and more dangerous. Due to their trademark sense of humor, fantastic plotting and unparalleled action scenes, Ilona and Gordon will leave behind a horde of disappointed fans when they bring this series to a close.
A copy of this book was kindly provided by the publisher for review purposes. No considerations, monetary or otherwise, have influenced the opinions expressed in this review.