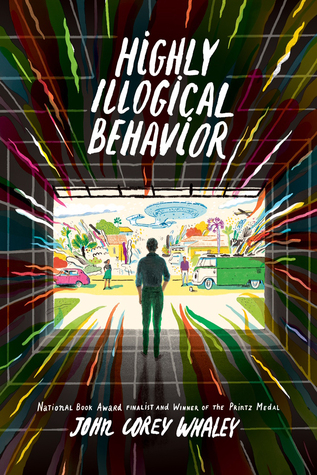 Series: Standalone
Released: May 10th 2016
Publisher: Dial
Length: 253 pages
Source: Publisher for review
Buy: Amazon
Sixteen-year-old Solomon is agoraphobic. He hasn't left the house in three years, which is fine by him.

Ambitious Lisa desperately wants to get into the second-best psychology program for college (she's being realistic). But is ambition alone enough to get her in?

Enter Lisa.

Determined to "fix" Sol, Lisa steps into his world, along with her charming boyfriend, Clark, and soon the three form an unexpected bond. But, as Lisa learns more about Sol and he and Clark grow closer and closer, the walls they've built around themselves start to collapse and their friendships threaten to do the same.
I've loved (loved!) John Corey Whaley ever since he published his first novel, Where Things Come Back, before all the awards and accolades that are now attached to his name. As a National Book Award finalist, winner of William C. Morris award for his debut and Michael L. Printz gold medalist for his sophomore novel, Whaley needs no more official confirmations of quality for his work. It's becoming quite clear that he is extraordinary.
Highly Illogical Behavior seems lighter than Whaley's previous work. It's very approachable and easy to read. The lightness, however, is merely superficial. This is a novel that can be discovered one layer at a time. It's a deceptively simple story that's actually quite complex underneath, making us feel as though it could read it over and over and discover something new each time.
Solomon Reed is agoraphobic. He doesn't leave the house and doesn't really communicate with people outside his family. He realizes he's a burden to his parents, but he simply can't face the world outside. His house is safe, and the safe environment keeps his panic attacks at a minimum. When Lisa shows up with her understanding and friendliness (and her hidden motives), Solomon is terrified, but ready to let her in. As difficult as it is to allow Lisa into his life, Clark challenges him in whole new ways, making him see that the world can be even more dangerous than he thought, but that it also has so much to offer.
Whaley does a fabulous job in bringing us close to our three characters. Although their story is told from just two perspectives, the three of them are equally important. Paradoxically, the one who is being fixed isn't the one who needs fixing the most. For all his troubles and phobias, Solomon has a loving family, a stable home and a very firm sense of self. Perhaps Lisa is the one who needs interventions even though she is initially the only one who seems to have it all together. Despite her ambition (or perhaps because of it), she is in many ways far less steady than she appears to be.
This author excels at gentleness and subtleties – there is no need for big sentences, dramatic solutions or grand gestures. He understands that life is in the small things and that there are no definitive solutions. There can be hints of hope, possibilities and changes in circumstances, but life offers no easy fixes for any of us.
This is a quiet, gorgeous little book that seems simple at first, but leaves you deep in thought and profoundly happy to have read it. This young author has already achieved so much, and we still have so much to look forward to.
A copy of this book was kindly provided by the publisher for review purposes. No considerations, monetary or otherwise, have influenced the opinions expressed in this review.