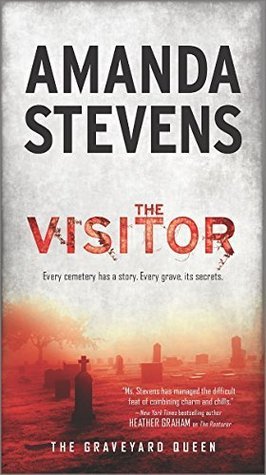 Series: Graveyard Queen, #4
Released: March 29th 2016
Publisher: MIRA
Length: 384 pages
Source: Publisher for review
My name is Amelia Gray. I'm the Graveyard Queen.

Restoring lost and abandoned cemeteries is my profession, but I'm starting to believe that my true calling is deciphering the riddles of the dead. Legend has it that Kroll Cemetery is a puzzle no one has ever been able to solve. For over half a century, the answer has remained hidden within the strange headstone inscriptions and intricate engravings. Because uncovering the mystery of that tiny, remote graveyard may come at a terrible price.

Years after their mass death, Ezra Kroll's disciples lie unquiet, their tormented souls trapped within the walls of Kroll Cemetery, waiting to be released by someone strong and clever enough to solve the puzzle. For whatever reason, I'm being summoned to that graveyard by both the living and the dead. Every lead I follow, every clue I unravel brings me closer to an unlikely killer and to a destiny that will threaten my sanity and a future with my love, John Devlin.
With close to four years between The Prophet and The Visitor, books 3 and 4 in Amanda Stevens' Graveyard Queen series, the fans welcomed the new installment with joy and a tiny bit of trepidation. Can it possibly be as good as the previous books? And will we remember the pertinent details after all this time? As it turns out, we needn't have feared. Stevens leads us back into Amelia's world almost effortlessly, making it seem like the long break wasn't even real.
Stevens doesn't allow herself many recaps. Instead she reminds us only of what we really need to know in any given moment. The Visitor gives us another compelling paranormal mystery that seems to be connected to Amelia's past. Once again she has to explore the hidden and forgotten parts of her background, her ancestors and the unusual circumstances of her birth.
As always, Stevens' prose is gorgeous and deeply atmospheric. The rich sounds of Deep South give this story a quality that simply cannot be found elsewhere. I listened to a part of it and really enjoyed the narrator's accent, which made the story so much better. Amelia is a true lady of the South, dignified and elegant, firm and resourceful. Most fans will realize how much they've missed her the second they slide back into her thoughts.
If there's one downside to this book (and there really is only one), it has to be the romance. We've watched Amelia and Devlin go through so much together, witnessed him letting go of his dead wife and child – at least as much as one can – and followed with bated breath as the two finally fell in love. But Amelia is fully aware that a lot is missing between them, that there's a certain lack of trust and they don't communicate nearly as much as they should. Amelia herself keeps many secrets from Devlin, and he seems more withdrawn and mysterious than ever. He keeps Amelia away from his family and she keeps him away from hers. All this takes up a large portion of the book and makes us think, on more than one occasion, that the two really would be better off apart.
Stevens builds tension slowly and masterfully to almost unbearable levels. Amelia has long since abandoned her father's rules that kept her safe. She is truly immersed into the other side, with all the dangers and potential heartbreak that brings. The Visitor is a worthy fourth installment that gives us much hope and faith for the next book, and all those that might come later.
A copy of this book was kindly provided by the publisher for review purposes. No considerations, monetary or otherwise, have influenced the opinions expressed in this review.