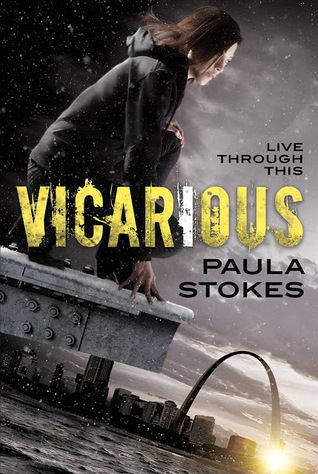 Series: Vicarious, #1
Relased: August 16th 2016
Publisher: Tor Teen
Length: 334 pages
Source: Publisher for review
Winter Kim and her sister, Rose, have always been inseparable. Together, the two of them survived growing up in a Korean orphanage and being trafficked into the United States.

Now they work as digital stunt girls for Rose's ex-boyfriend, Gideon, engaging in dangerous and enticing activities while recording their neural impulses for his Vicarious Sensory Experiences, or ViSEs. Whether it's bungee jumping, shark diving, or grinding up against celebrities at the city's hottest dance clubs, Gideon can make it happen for you, for a price.

When Rose disappears and a ViSE recording of her murder is delivered to Gideon, Winter won't rest until she finds her sister's killer. But when the clues she uncovers conflict with the neural recordings her sister made, Winter isn't sure what to believe. To find out what happened to Rose, she'll have to untangle what's real from what only seems real, risking her life in the process.
There really aren't that many YA books that embrace the harsh realities of the world we live in. Even when writing a sci-fi thriller, Paula Stokes is courageous enough to do so. She doesn't embellish, she refuses to sugarcoat, and she throws the ugliest bits right in our faces. While I wouldn't debate its appropriateness for younger teens (I still struggle with determining the lines for my kiddo), I applaud Stokes for taking us where so few YA authors have gone before.
Vicarious isn't easy to put into words. Anything is a potential spoiler so it's best to go into it blindly. Nevertheless, several things can be safely pointed out. First and foremost, Stokes' characters are tiny works of art. Winter Kim is as serious as they come, severely damaged by her traumatic childhood. She is focused, driven, and slow to trust. She trains hard, not only for her job as a digital stuntwoman in her guardian's company, but also to keep herself safe and make sure that the past traumas never happen again.
With a Korean protagonist that actually spent her formative years in Korea, I assume that Stokes had to tread carefully. However, even with my limited understanding of Korean culture, I felt that the spirit of it was captured perfectly. The magic was in the little things like Winter's worldview, her respect for her elders, her absolute devotion to family. During her work hours, Winter breaks into heavily guarded company headquarters, bungee jumps and swims with sharks. In her private time, however, she prefers solitude and is rather conservative, unlike her sister Rose who is a social butterfly prone to risky behavior.
Many of you will be curious about the romance, and I can only tell you that it's complex, heartbreaking and that it works. Through Winter's connection with Jesse, Stokes explored some of the psychological consequences of sexual abuse, the inability to achieve intimacy and the reluctance to trust. Jesse's tentative approach was sometimes healing and sometimes damaging and finding the balance was incredibly hard for them both. This is where Paula Stokes shines, with her profound understanding and sensitivity, but also openness and direct approach. There is no tiptoeing in her writing and nothing is left unsaid.
As mentioned before, it's best not to talk about the plot except to say that it's lightning fast and full of twists that will make your mind explode. It's been ages since I'd held such a page turner in my hands and it will likely be ages before I find another one that can measure up. The light science fiction elements were blended in smoothly, the Vicarious Sensory Experiences being something our culture definitely strives for.
Vicarious left me reeling, struggling for hours to return to the real world. I feel very comfortable recommending it far and wide, knowing it will turn all its readers into ardent fans. The only thing left is to count down the days to the next book, hoping not to die of suspense in the process.
A copy of this book was kindly provided by the publisher for review purposes. No considerations, monetary or otherwise, have influenced the opinions expressed in this review.
There's still a bit of time left to pre-order and get signed swag + a chance to win an ARC of sequel! For more information, check
Paula's Twitter page
.