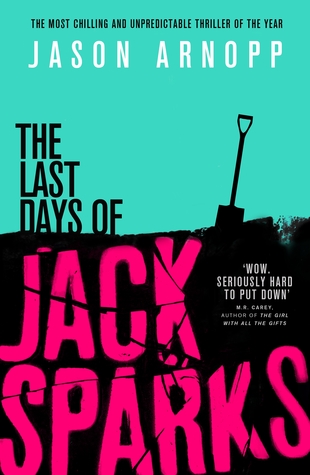 Series: Standalone
Released: July 28th 2016
Publisher: Orbit
Length: 336 pages
Source: Publisher for review
Jack Sparks died while writing this book. This is the account of his final days.

In 2014, Jack Sparks - the controversial pop culture journalist - died in mysterious circumstances.

To his fans, Jack was a fearless rebel; to his detractors, he was a talentless hack. Either way, his death came as a shock to everyone.

It was no secret that Jack had been researching the occult for his new book. He'd already triggered a furious Twitter storm by mocking an exorcism he witnessed in rural Italy.

Then there was that video: thirty-six seconds of chilling footage that Jack repeatedly claimed was not of his making, yet was posted from his own YouTube account.

Nobody knew what happened to Jack in the days that followed - until now. This book, compiled from the files found after his death, reveals the chilling details of Jack's final hours.
The Last Days of Jack Sparks is an original, genre-bending, terrifying new novel by Jason Arnopp, a book that defies descriptions and explanations. It follows a very unlikeable journalist and writer as he tries to prove that there's no such thing as ghost, or any other supernatural entity. Jack sees it as his mission to debunk any claims of supernatural encounters and he's often very rude as he goes about it.
Jack himself, however, is not to be trusted. With titles like Jack Sparks on Gangs and Jack Sparks on Drugs (which earned him a long stint in rehab for cocaine addiction), he is a social media darling and willing to do just about anything to stay in the spotlight. Lately he's been planning a book called Jack Sparks on the Supernatural and writing a list of hypotheses on paranormal phenomena, his so called SPOOKS list, which stands for Sparks' Permanently Ongoing Overview of Kooky Shit, and he's rather vocal about it.
In no uncertain terms, Jack Sparks is an egotistical, power-hungry, emotionally stunted jerk. He has feelings for his roommate and best friend Bex, but he'd rather die than do something about it. He is estranged from his family and infinitely rude to his brother. Like all the best anti-heroes, however, he becomes likeable along the way and we can't help but root for him as he struggles through curses, haunting and his own denial.
We see Jack not only through his unfinished book, but through other people's eyes as well. A prologue and epilogue written by his brother Alistair, various emails from friends and business contacts and different accounts of certain events all show that Jack's version of events simply cannot be trusted. As he slides down into strange behavior and lots and lots of alcohol, the two versions of any event described become more and more distant.
Early in the book, his and ours both, Jack Sparks writes: "None of this is remotely unnerving, scary or – most importantly – convincing. My jeans remain unsoiled. My heebies are jeebie-less. There are no willies up me." The feeling (or lack of it) doesn't last long, however. Not long after, a video appears on Jack's YouTube channel, a video he himself most certainly did not post, and the most terrifying time of Jack's life begins.
Trust me when I tell you, this book will not allow you to sleep. Firstly, you'll feel compelled to turn those pages until you learn the truth behind Jack's ramblings. And secondly, even when you do, you'll be much too frightened to turn down the lights and just sleep. This book offers it all: laughs, excellent plot and nail-biting excitement. I highly recommend it to all horror fans and for those who are looking for something strange and original to read.
A copy of this book was kindly provided by the publisher for review purposes. No considerations, monetary or otherwise, have influenced the opinions expressed in this review.