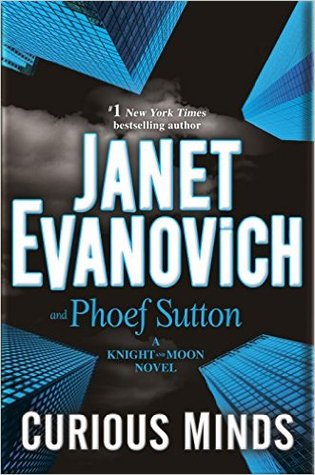 Series: Knight & Moon, #1
Released: August 16th 2016
Publisher: Bantam Dell
Length: 336 pages
Source: Publisher for review
Buy: Amazon
Janet Evanovich, #1 New York Times bestselling author of the Stephanie Plum series, teams up with Emmy-winning writer Phoef Sutton for a brand-new series of thrillers featuring the invincible and incompatible pairing of Knight and Moon.

Emerson Knight is introverted, eccentric, and has little to no sense of social etiquette. Good thing he's also brilliant, rich, and (some people might say) handsome, or he'd probably be homeless. Riley Moon has just graduated from Harvard Business and Harvard Law. Her aggressive Texas spitfire attitude has helped her land her dream job as a junior analyst with mega-bank Blane-Grunwald. At least Riley Moon thought it was her dream job, until she is given her first assignment: babysitting Emerson Knight.

What starts off as an inquiry about missing bank funds in the Knight account leads to inquiries about a missing man, missing gold, and a life-and-death race across the country. Through the streets of Washington, D.C., and down into the underground vault of the Federal Reserve in New York City, an evil plan is exposed. A plan so sinister that only a megalomaniac could think it up, and only the unlikely duo of the irrepressibly charming Emerson Knight and the tenacious Riley Moon can stop it.
Janet Evanovich is my go-to author for a funny, relaxing reading experience. I've been known to laugh like a lunatic while reading one of her books, sometimes loudly, and sometimes even in public (which I suppose explains my lack of social life). Her books are often plotted and executed like episodes of Looney Tunes, some more than others. Curious Minds follows the nonsensical path when it comes to character interactions, and sometimes even the plot. It's precisely what one might expect from Evanovich, which unfortunately makes it a story we've all read before.
After only a day on her new job as junior analyst at Blane-Grunwald, Riley is sent to appease the multimillionaire Emerson Knight, who suddenly wants to see his gold in the company's vault. Instead of diverting him from his course, Riley gets tangled in his plan to uncover a massive conspiracy that extends to the highest levels of the US government. She gets dragged along from one insane plan to the next and she does very little but follow Emerson's insane instructions. The seemingly endless dialogue between them is sometimes funny, but sometimes seems a bit forced.
Riley Moon is just like every other Evanovich's heroine. In fact, I often couldn't differentiate between her and Lizzy from the Lizzy & Diesel series. Aside from the few superficial things like education and profession, they really acted like one and the same. Emerson and Diesel also share many similarities, mostly in behavior. They come up with hare-brained schemes and plans that work only because they miraculously seem to be a step ahead of everyone else. They are both eccentric, charming and they own strange animals, including monkeys. Janet Evanovich and Phoef Sutton co-authored the third Lizzy & Diesel book, and then they co-authored this, so some similarities were to be expected. Still, these characters were carbon-copies of each other and I couldn't shake the feeling that I was reading yet another Wicked book, minus the paranormal element.
Like with the Lizzy & Diesel series, we'll likely be teased about the romance for at least two more books. There is some light tension between Riley and Emerson and a whole lot of teasing, but nothing actually happens, and I doubt anything will. It's fairly standard for Evanovich and Sutton, and I suppose I'm a bit tired of it. Nevertheless, readers who are new to their books will find plenty to love in Curious Minds. For them, it will be fresh and hilariously funny, and the characters will be endlessly entertaining. Older readers might find themselves struggling through several parts, but then again, maybe that's just me.
A copy of this book was kindly provided by the publisher for review purposes. No considerations, monetary or otherwise, have influenced the opinions expressed in this review.