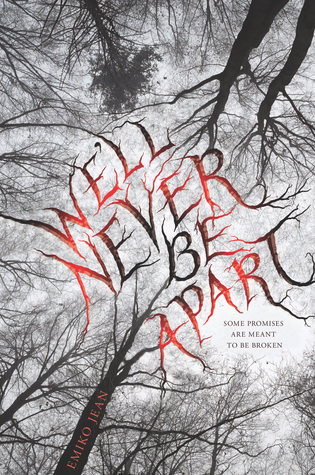 Series: Standalone
Released: October 6th 2015
Publisher: HMH BfYR
Length: 279 pages
Source: Publisher for review
Buy: Amazon
Murder.

Fire.

Revenge.

That's all seventeen-year-old Alice Monroe thinks about. Committed to a mental ward at Savage Isle, Alice is haunted by memories of the fire that killed her boyfriend, Jason. A blaze her twin sister Cellie set. But when Chase, a mysterious, charismatic patient, agrees to help her seek vengeance, Alice begins to rethink everything. Writing out the story of her troubled past in a journal, she must confront hidden truths.

Is the one person she trusts only telling her half the story? Nothing is as it seems in this edge-of-your-seat psychological thriller from the debut author Emiko Jean.
Is it possible to enjoy a psychological thriller even if you guess the mystery in the prologue? Being well written but somewhat predictable, We'll Never be Apart by Emiko Jean brings forth this dilemma I struggled to resolve before deciding whether to recommend the book. On the one side, the plot Jean crafted is largely dependent upon the big reveal in the last few chapters, a mystery that can be guessed on the very first pages. On the other side, though, the book has plenty going for it along the way, and Emiko Jean's writing style itself is enough to make this worth our while.
Alice and Cellie have a very unusual, co-dependent relationship, even for twins. They adore each other, but Cellie doesn't allow anyone to get too close to Alice or she becomes extremely violent. Both sisters are obviously troubled, but Alice seems more vulnerable – until Cellie kills Alice's boyfriend Jason in a fit of jealousy. We meet Alice in the days following the incident as she struggles to find her footing in a mental ward at Savage Isle. She misses Jason terribly and she's desperate to find Cellie and exact revenge. Through her diary entries, we also learn more about the girls' past, the history of Cellie's behavior and Alice's desire to protect her. The two have been inseparable their whole lives, through far too many foster homes and several abusive situations.
Subtle foreshadowing isn't one of Emiko Jean's strengths. Everything that was meant to be a small hint is actually a big neon sign in the reader's face. It is virtually impossible not to guess the big mystery, but somehow, that doesn't take away too much from the book's appeal. The power of this book is in uncovering small details, understanding everyone's motives and the depth or their madness. Despite her less than subtle approach, Emiko Jean writes well and she knows how to create a creepy atmosphere.
All things considered, We'll Never Be Apart is a decent read, a good choice for readers who enjoy feeling unsettled. Despite being a bit predictable, it's a good enough book to deserve a few hours of your time.
A copy of this book was kindly provided by the publisher for review purposes. No considerations, monetary or otherwise, have influenced the opinions expressed in this review.