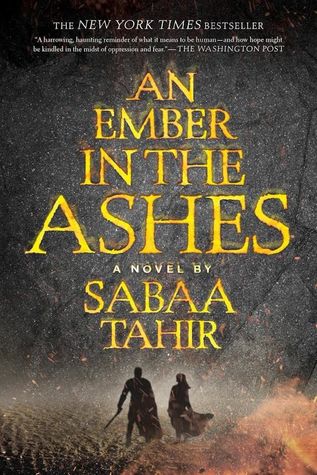 Series:Ember in the Ashes, #1
Released: April 28th 2015
Publisher: Razorbill
Length: 446 pages
Source: Publisher for review
Laia is a slave. Elias is a soldier. Neither is free.

Under the Martial Empire, defiance is met with death. Those who do not vow their blood and bodies to the Emperor risk the execution of their loved ones and the destruction of all they hold dear.

It is in this brutal world, inspired by ancient Rome, that Laia lives with her grandparents and older brother. The family ekes out an existence in the Empire's impoverished backstreets. They do not challenge the Empire. They've seen what happens to those who do.

But when Laia's brother is arrested for treason, Laia is forced to make a decision. In exchange for help from rebels who promise to rescue her brother, she will risk her life to spy for them from within the Empire's greatest military academy.

There, Laia meets Elias, the school's finest soldier—and secretly, its most unwilling. Elias wants only to be free of the tyranny he's being trained to enforce. He and Laia will soon realize that their destinies are intertwined—and that their choices will change the fate of the Empire itself.
Often the most difficult books to review are those we love the most. How many superlatives can I possibly write before you grow bored and run off to read something else? It's been a while since this reader felt the need to gush unashamedly, but today seems to be the day for it. Sabaa Tahir's mesmerizing debut left me drowning in my own tears, wondering what on earth took me so long to read it.
An Ember in the Ashes takes place in a dystopian world enriched with elements of Arabian mythology. The quality of Tahir's worldbuilding is superb and she draws every detail with unparalleled clarity and precision. She doesn't shy away from the harsh realities of oppression. Under the Empire, Laia's country is shattered by tyranny and killing, the Scholars' spirits suffocated under the Martials' unforgiving treatment. There isn't a single ray of light for these enslaved, brutally tortured people, and even the Resistance often sounds like a distant fairytale.
Laia is neither the bravest of heroines, nor is she the most competent, but there is something in her relentless efforts to save her brother that draws us immediately to her. Even when she runs and cowers, you understand that she has a backbone of steel just waiting to be discovered. She isn't a fighter and she can't be described as reckless, but she is persistent and she is a survivor.
Despite being an elite soldier of the Martial army, Elias is even easier to like. There is an innate goodness that shines in his every thought and action, an attitude that sets him miles apart from those around him. With the Masks in Elias's school, Tahir shows us the full extent of the Empire's cruelty. Their treatment of their own children is often even worse than their treatment of slaves.
The story is made even stronger by the variety of relationships portrayed. Some of them are strong enough to be their own plotlines, and even those that get no page time, like Laia's relationship with her brother, are explored in great depth and detail. In order to understand any of them, you need to see the whole picture, understand their personalities and backgrounds and really consider how this bond came to be. The most interesting, perhaps, was Elias's relationship with his best friend, Helene. As the only girl in their school, Helene is tougher, braver and stronger than most boys, but still an outcast. Elias himself is an outcast due to his parentage, and the relationship that develops between them in their 15 years of training and mental conditioning is one of the most in depth explorations I've ever read.
The plot is a twisty, tangled thing that nevertheless gives the impression of being perfectly planned and executed. Every small detail is in its place, every little thing sharpened to perfection. Credit needs to be given to Tahir for such careful consideration. An Ember in the Ashes is a labor of love, and it shows.
With the second book right around the corner, it seems to be the perfect time to pick this up if you haven't already. This wonderful book is the best YA debut of 2015 and one of the best I myself have ever stumbled upon.
A copy of this book was kindly provided by the publisher for review purposes. No considerations, monetary or otherwise, have influenced the opinions expressed in this review
.