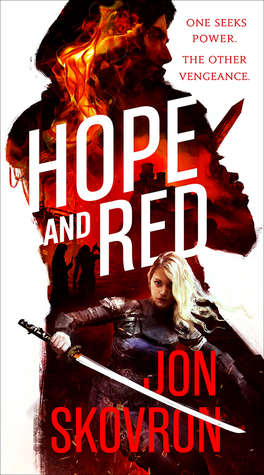 Author: Jon Skovron
Series: Empire of Storms, #1
Released: June 30th 2016
Publisher: Orbit
Length: 416 pages
Source: Publisher for review
Buy: The Book Depository
In a fracturing empire spread across savage seas, two young people from different cultures find common purpose. A nameless girl is the lone survivor when her village is massacred by biomancers, mystical servants of the emperor. Named after her lost village, Bleak Hope is secretly trained by a master Vinchen warrior as an instrument of vengeance. A boy becomes an orphan on the squalid streets of New Laven and is adopted by one of the most notorious women of the criminal underworld, given the name Red, and trained as a thief and con artist. When a ganglord named Deadface Drem strikes a bargain with the biomancers to consolidate and rule all the slums of New Laven, the worlds of Hope and Red come crashing together, and their unlikely alliance takes them further than either could have dreamed possible.
Try to imagine the most fabulous combination of the following movies:
Gangs of New York
,
Kill Bill
and
Pirates of the Caribbean
. Did your mind explode yet? If yes, well, join the club. If not, just give it another second or two. Hope and Red is, according to its author, the first book in his
swashbuckling kung fu gangster pirate romance trilogy
. Yes, you read that right and no, I didn't mistype. At this point, I believe none of you need any further convincing, but bear with me for just a moment longer. After all, gushing is what I do best.
Hope and Red
is a bloody, filthy mess of sheer pirate awesomeness. The narration jumps back and forth between its two protagonists: a girl called Bleak Hope and a young highborn thief named Red. As the only survivor of a massacre committed by biomancers, Hope has known very little affection in her young life. She was trained against all rules to become a Vinchen warrior with her heart and mind set on honorable revenge. Red was also orphaned when his mother died from a horrible disease and his father succumbed to hard life and grief. Having nowhere to turn on the harsh streets, he was semi-adopted by Sally the Goat, a legend on the streets of New Laven. With her, Red embarked on many adventures, including piracy and theft.
Skovron's characters are crude and unpolished, each of them a reflection of their surroundings. His is a violent world, the law of the slum being that the most dangerous criminal rules. I loved the grimy feel of his prose, all the filth and the dialect his characters spoke. Hope and Red don't even meet until well into the book, but there are plenty other characters to discover until then. The book is fairly long, even for fantasy, but with so many tightly packed adventures and a wicked, dirty sense of humor, Skovron leaves us little time to breathe.
Skovron carefully threads messages about gender equality into his story. Women's rights have clearly been at the forefront of his mind while he was writing it.
Hope and Red
is a subtle and entertaining feminist manifesto with a diverse cast of characters and the first (I think) kickass transgender character in fantasy. Although the values were expressed clearly and were essential to this story, they were woven so skillfully and cleverly that they never took over or overshadowed the plot.
There is nothing I would change in this book, not a single detail I wish had been done differently. Hope and Red is complex, funny and flawlessly written. The only downside is that I'd pretty much sell my soul for the next one.
A copy of this book was kindly provided by the publisher for review purposes. No considerations, monetary or otherwise, have influenced the opinions expressed in this review.