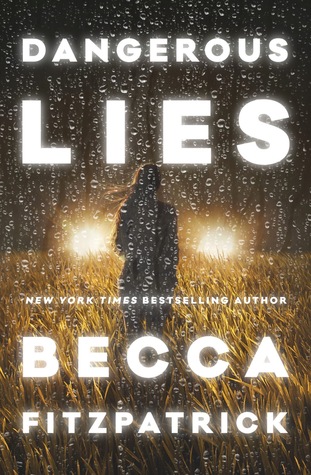 Author: Becca Fitzpatrick
Series: Standalone
Released: November 10th 2015
Publisher: Simon & Schuster
Length: 400 pages
Source: Publisher for review
Buy: Amazon
A teen is forced to make a fresh start after witnessing a violent crime—but love and danger find her anyway in this novel from Becca Fitzpatrick, the New York Times bestselling author of the Hush, Hush saga.

Stella Gordon is not her real name. Thunder Basin, Nebraska, is not her real home. This is not her real life.

After witnessing a lethal crime, Stella Gordon is sent to the middle of nowhere for her own safety before she testifies against the man she saw kill her mother's drug dealer.

But Stella was about to start her senior year with the boyfriend she loves. How can she be pulled away from the only life she knows and expected to start a new one in Nebraska? Stella chafes at her protection and is rude to everyone she meets. She's not planning on staying long, so why be friendly? Then she meets Chet Falconer and it becomes harder to keep her guard up, even as her guilt about having to lie to him grows.

As Stella starts to feel safer, the real threat to her life increases—because her enemies are actually closer than she thinks…
I must confess that I'm one of maybe seven bloggers in the world who haven't read the famous Hush Hush series, and I think it's safe to say that for me, Becca Fitzpatrick's switch to the YA mystery/thriller genre certainly paid off. I am a huge fan of thrillers, be it adult or YA, and this is an author who knows how to write true page-turners and give us so much to think about along the way. I considered Black Ice to be a huge success with its morally ambiguous characters, heart-stopping danger and a romance that maybe wasn't for everyone's taste, but that definitely worked for me. Dangerous Lies might be better suited for a larger audience, but the things I loved about Black Ice, the bones of the story, are still very much present.
We meet Estella as she goes in the witness protection program. She is separated from her boyfriend and her self-destructive, addicted mother and forced to live in a small town with a hardened ex-cop. Stella feels betrayed by her mother and desperate for her exile to end as soon as possible.
It isn't always easy to like Stella. In fact, she is purposely written as rebellious and self-centered, but even as we're trying to come up with various punishments for her behavior (from a purely parental standpoint, of course), we fully understand how she came to be that way and what went wrong along the way. She is a girl who practically raised herself under very difficult circumstances, a girl who has never been properly loved by anyone. I was afraid, for a time, that there would be no saving her, no easy way out, that she was just too hardened for a regular life.
As a character, Chet provides a nice counterbalance to Stella. A reformed bad boy with secrets and regrets who is trying his best to live a different, honest and responsible life, Chet is perhaps one of the best characters I've stumbled upon lately. He more than made up for the uncomfortable feeling Stella caused and he gave me someone to support and root for at all times.
The mystery part was well done, even though it was a tiny bit predictable. Still, I had no idea how things would play out and I was incredibly tense the entire time. I loved that Fitzpatrick didn't fall back on a cliché with Becca's boyfriend and that she gave us a realistic, entirely credible solution to that problem.
Overall, Fitzpatrick is proving to be a truly wonderful YA mystery author whose next work I'm anticipating with much excitement.
A copy of this book was kindly provided by the publisher for review purposes. No considerations, monetary or otherwise, have influenced the opinions expressed in this review.