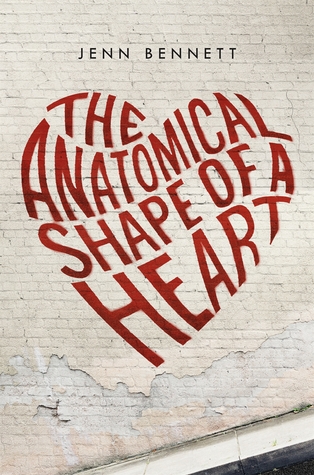 Author: Jenn Bennett
Series: Standalone
Released: November 3rd 2015
Publisher: Feiwel & Friends
Length: 304 pages
Source: Publisher for review
Buy: Amazon
Artist Beatrix Adams knows exactly how she's spending the summer before her senior year. Determined to follow in Leonardo da Vinci's footsteps, she's ready to tackle the one thing that will give her an advantage in a museum-sponsored scholarship contest: drawing actual cadavers. But when she tries to sneak her way into the hospital's Willed Body program and misses the last metro train home, she meets a boy who turns her summer plans upside down.

Jack is charming, wildly attractive . . . and possibly one of San Francisco's most notorious graffiti artists. On midnight buses and city rooftops, Beatrix begins to see who Jack really is—and tries to uncover what he's hiding that leaves him so wounded. But will these secrets come back to haunt him? Or will the skeletons in Beatrix's own family's closet tear them apart?
I've been a fan of Jenn Bennett ever since her first Arcadia Bell book (which seems like a million years ago), but I never expected her to try her hand in young adult fiction. Foolish of me, I suppose. Why wouldn't she, when she's so good at everything else she puts her mind to writing? From the very first advanced reader's copy that fell into a reviewer's hand, The Anatomical Shape of a Heart (internationally titled Night Owls, which I prefer), has been getting nothing but rave reviews. And with good reason. Homework was done, a checklist was made, many YA books and reviews have been read and the result was a book designed to satisfy even the most demanding YA reader. At least that's how it reads.
I've tried my best to nitpick and dissect in an attempt to pinpoint the exact thing that made me so uncomfortable, and I failed. Jenn's writing is flawless and her characters are well rounded people with unique interest. The book offers diversity on more than one level and it even includes a positive, albeit unflinchingly honest representation of mental illness. So what the hell is wrong with me, you say? Likely the fact that my brain kept screaming
too perfect too perfect too perfect
!
While I loved several things about this book – in fact, my brain loved just about everything about it – my heart just refused to get with the program. It truly did feel as if Jenn had followed some well planned checklist. Sex-positive message, positive representation of mental illness, check, check. Gay couple, racial diversity, check, check. All is well that ends well, check.
This is one of the rare few cases when my rating won't in any way reflect my true feelings. Objectively, this book is a dream and I would (and will) recommend it to teens wherever I turn. It includes the very things I stand for, it's quirky and unobtrusively educational. While the perfection of this book clearly made me uncomfortable, I am more than capable of appreciating its worth. So read this, if you haven't, and then come back to yell at me for being heartless. Or, you know, discuss. There's nothing I'd enjoy more.
A copy of this book was kindly provided by the publisher for review purposes. No considerations, monetary or otherwise, have influenced the opinions expressed in this review.