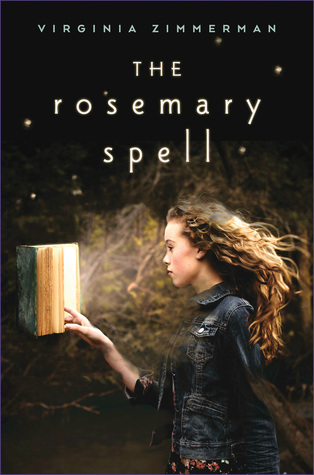 Author: Virginia Zimmerman
Series: Standalone
Released: December 1st 2015
Publisher: Clarion Books
Length: 280 pages
Source: Publisher for review
Buy: Amazon
Part mystery, part literary puzzle, part life-and-death quest, and chillingly magical, this novel has plenty of suspense for adventure fans and is a treat for readers who love books, words, and clues. Best friends Rosie and Adam find an old book with blank pages that fill with handwriting before their eyes. Something about this magical book has the power to make people vanish, even from memory. The power lies in a poem—a spell. When Adam's older sister, Shelby, disappears, they struggle to retain their memories of her as they race against time to bring her back from the void, risking their own lives in the process.
Lately I've been slowly exploring middle grade fiction, something I haven't done since I was actually a middle grade reader, trying to find more and more titles for my daughter, who's turning out to be quite the voracious reader. I must confess that I'm sometimes finding it difficult to see MG reads as she would see them and not judge them through adult eyes. But every once in a while there comes a book appropriate for all ages, beautiful and educational, a read that promotes all the right values and teaches all the right lessons.
The Rosemary Spell was quite a surprise for me. The second I read the words 'literary puzzle' in the synopsis, I knew I must read it, and read it I did, in a single breath no less. It is a wonderful story, warm and intriguing, with young but flawed characters with genuine fears and problems. It's a tiny bit magical in a very literal sense, but the true magic is in Rosemary's character, her sorrow for her father, her quiet anger at her mother, her feeling of abandonment caused by a friend who just started high school and the young, brilliant mind behind it all.
We are led through this adventure by a creative, smart girl, daughter of two academics, a brilliant mind, but young and vulnerable too. Rosemary discovers a secret diary under the floorboards in her room, empty pages that seem to slowly reveal words and paragraphs, only to hide them again minutes later. Rosemary and Adam are determined to discover the truth about the diary, but to do that, they have to be resourceful, creative, and very good at interpreting poetry.
In a way, this is a coming of age story, but the most prominent feeling is that of being left behind. Abandoned by her father and outgrown by one of her best friends and role models, Rosemary struggles with very real feelings while trying her best to solve the magical mystery. The setting, the characters and the very idea behind this book are lovely.
My favorite thing about this story is that it develops a love for poetry. Rosemary and Adam search for hidden meanings, interpret Shakespeare and other poets, read and explore biographies and collections. It's an exciting story, but its educational value is enormous. I really think young readers are going to adore this one.
A copy of this book was kindly provided by the publisher for review purposes. No considerations, monetary or otherwise, have influenced the opinions expressed in this review.