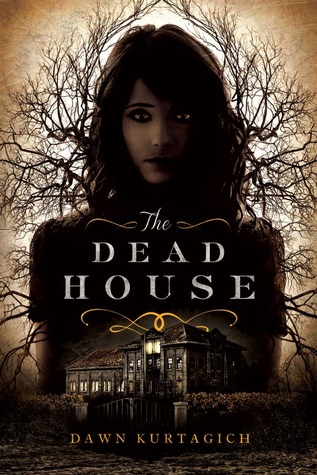 Author: Dawn Kurtagich
Series: Standalone
Released: September 15th 2015
Publisher: Little, Brown BfYR
Length: 432 pages
Source: Publisher for review
Buy: Amazon
Debut author Dawn Kurtagich is dead on in this terrifying psychological thriller!

Over two decades have passed since the fire at Elmbridge High, an inferno that took the lives of three teenagers. Not much was known about the events leading up to the tragedy - only that one student, Carly Johnson, vanished without a trace...

...until a diary is found hidden in the ruins.

But the diary, badly scorched, does not belong to Carly Johnson. It belongs to Kaitlyn Johnson, a girl who shouldn't exist Who was Kaitlyn? Why did she come out only at night? What is her connection to Carly?

The case has been reopened. Police records are being reexamined: psychiatric reports, video footage, text messages, e-mails. And the diary.

The diary that paints a much more sinister version of events than was ever made publicly known.
You've surely heard this before, but here it is again: The Dead House is a very unusual sort of book, narrative-wise. It is a skillfully woven web of diary entries, video transcripts, police interview transcripts, e-mails and instant messages, newspaper clippings and other documents pertaining one horrible event known as the Johnson Incident. The concept itself is a brilliant one, wholly new and original. While it starts with two souls in one body, something we've certainly seen before, what Kurtagich does with it hasn't been done in YA, and for the most part, it's mind-blowingly good.
The story, admittedly, requires some suspension of disbelief, especially when it comes to health care professionals and the decisions they made for one obviously ill girl. I had a hard time believing that someone like Carly/Kaitlyn would be allowed to attend school with almost no supervision. The school itself was a bit odd in that its students had far too many liberties and not enough adults looking after them, which isn't how boarding schools usually function.
The narrative is both very clinical and very emotional, and it is that contrast that allows us to really sink into it. The format creates an illusion of objectivity, but we feel Kaitlyn's pain so strongly the entire time and we are unable to make clear-headed judgments. Kaitlyn's diary entries are fairly brief and scattered, coherent at first, but less and less so as she declines into madness. Whether it's justified or not, provoked or not, is the question we ask ourselves the entire time, but the decline itself is so skillfully and convincingly done.
Kurtagich's prose is gorgeous and clever, surprisingly vivid and even lyrical at times. Her horror scenes reminded me of Kendare Blake in that they turned my stomach and made me feel such pity at the same time. Nothing about
The Dead House
felt rushed or poorly composed, and evoking certain emotions at precisely the right time seems to be one of Kurtagich's strengths. Every single detail is in its place, which isn't easy with such a complex, non-linear narrative.
The revelations, however, could have been paced a lot better. There came a time when we needed something to hold onto, something more substantial than the ramblings of a disturbed girl. The book itself is fairly long, but everything we learn comes at the very last pages. While every detail was important and deliciously creepy, the book would have been better if a few truths were revealed just a bit earlier.
Read this with your lights on. And find something cheery and uplifting to read right after, because you'll need it. But all the effort and the comfort food you'll undoubtedly eat will be worth it. The Dead House may be flawed, but it's a must-read.
A copy of this book was kindly provided by the publisher for review purposes. No considerations, monetary or otherwise, have influenced the opinions expressed in this review.