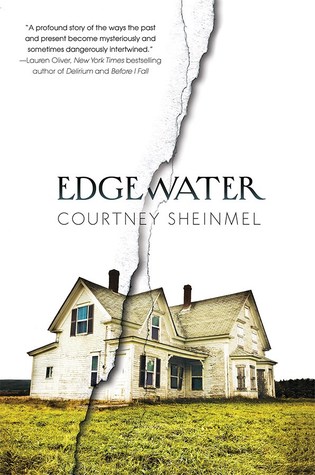 Author: Courtney Sheinmel
Series: Standalone
Released: September 8th 2015
Publisher: Abrams
Length: 336 pages
Source: Publisher for review
Buy: The Book Depository
Lorrie Hollander used to be a rich girl, but now she's lost everything because of the secrets and lies of the people around her. It's been 12 years since Lorrie's mother skipped town and left Lorrie in the care of her unstable aunt Gigi. Together they live in a neglected, decrepit mansion called Edgewater, the eyesore in a town of extraordinary wealth and privilege.

When Charlie, the son of an esteemed senator, takes an interest in Lorrie, her shame for her family and lifestyle runs deep. But what she doesn't know is that Charlie's family is hiding something, too, and that their secrets are inextricably tied. Now Lorrie must confront the truth about her family—and everything she ever thought she knew about herself.
Reminiscent of the TV series Scandal in several aspects, Courtney Sheinmel's YA debut novel Edgewater brings a lush atmosphere, romance, political intrigue, and deeply buried secrets.
Lorrie's life is all about keeping up appearances and living the life she feels entitled to, even though it's fairly obvious that she doesn't quite belong among the rich and carefree. On the surface, it seems quite shallow, but there's more to Lorrie's efforts than that. Abandoned by both her parents and left in the care of a flaky, possibly bipolar aunt, Lorrie sees boarding schools and riding camps as an escape from her shameful family and her embarrassing home. The family estate, Edgewater, was once an awe-inspiring house, but now it's in ruins and completely out of control. Lorrie is deeply ashamed of her circumstances and her only goal for years has been to hide the downfall of her family however she can. When the funds finally dry up completely, Lorrie has to adjust her worldview, but just then, long ago buried secrets start coming to light. It seems that both her family and that of Charlie Copeland, political prince and Lorrie's crush, have something awful to hide.
Edgewater may be Courtney Sheinmel's debut YA novel, but she has plenty of other works behind her, and she already honed her writer's voice into something gentle and distinctive, beautiful yet unobtrusive. Her style is fairly simplistic and clear, but it still manages to surprise and impress with a particularly clever turn of phrase or an unexpected epithet. Even more importantly, her sentences are saturated with emotions, Lorrie's shame in particular screaming at us from every page.
If I were to offer any constructive criticism, it would be about secondary characters, which, on occasion, seemed a bit cartoonish and over the top. A lot more could have been accomplished by focusing more on Gigi and Susannah and less on the romance and Lorrie's friendship with Lennox. I felt that those two characters in particular had more to give and I was disappointed that they weren't used to their full potential.
Otherwise, though, Edgewater was a breath of fresh air that pushed me right back into reading YA after growing tired of it in late spring. It's not your average contemporary YA and not just another mystery. It jumps skillfully back and forth between genres and enchants with depth of emotion and its rich atmosphere.
A copy of this book was kindly provided by the publisher for review purposes. No considerations, monetary or otherwise, have influenced the opinions expressed in this review.