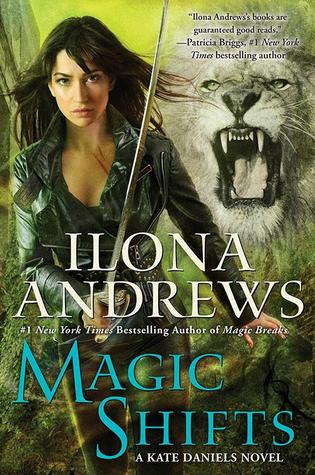 Author: Ilona Andrews
Series: Kate Daniels, #8
Released: August 4th 2015
Publisher: Ace
Length: 400 pages
Source: Publisher for review
Buy: Amazon
In the latest Kate Daniels novel from #1 New York Times bestselling author Ilona Andrews, magic is coming and going in waves in post-Shift Atlanta—and each crest leaves danger in its wake…

After breaking from life with the Pack, mercenary Kate Daniels and her mate—former Beast Lord Curran Lennart—are adjusting to a very different pace. While they're thrilled to escape all the infighting, Curran misses the constant challenges of leading the shapeshifters.

So when the Pack offers him its stake in the Mercenary Guild, Curran seizes the opportunity—too bad the Guild wants nothing to do with him and Kate. Luckily, as a veteran merc, Kate can take over any of the Guild's unfinished jobs in order to bring in money and build their reputation. But what Kate and Curran don't realize is that the odd jobs they've been working are all connected.

An ancient enemy has arisen, and Kate and Curran are the only ones who can stop it—before it takes their city apart piece by piece…
After the pivotal 7th installment, I spent about 0.236 seconds worrying about this book and wondering whether the series would successfully find a new direction. It didn't take me long to remember who I was dealing with – Ilona and Gordon have never failed me before, and they keep proving themselves over and over again. No downturns for Kate, and certainly none for this fabulous husband-and-wife writing team.
Magic Shifts opens up a new chapter for Kate and Curran. It's a different one, but no less scary and adventure-filled. Some of the dangers they face are the same, and some are completely new and challenging. We see them in a completely different situation, removed from everything we used to take for granted, but the newness of it all isn't uncomfortable. In fact, only thirty pages in, it was time to recognize that Ilona and Gordon made the right choice for their characters and the series.
Stepping away from the Pack doesn't necessarily mean losing some of our favorite secondary characters, which was my biggest fear going in. Kate and Curran might be magnets for trouble, but they are also magnets for violent, deranged and insanely loyal shapeshifters. Most of the usual suspects are back in full force, and the humor they bring with them is stronger than ever.
As usual, Gordon and Ilona don't recycle their mythology. It's my very favorite thing about Kate Daniels – the opportunity to learn something new and admire the amount of research each and every time. This time, the story is centered around lesser known Islamic myths and as usual, it is accurate, precise and done tastefully. These two always do their homework very thoroughly, and it's what makes their series the very best urban fantasy has to offer.
Surprisingly, aside from being a constant rollercoaster of action and banter, this book pushes the limits of emotionality by giving us moments of profound sadness and genuine fear, unlike anything we've seen before. The messes Kate tends to find herself in are always challenging and alarming to a point, but up until now, we've always known that things would turn out well in the end. In Magic Shifts, that certainty is finally removed and we're left with this heavy feeling in our chests that refuses to go away. There were parts of this book that were heartbreaking for me, more so because they were unexpected, and in the end, with some distance, I concluded that these authors keep growing and taking us in unexpected directions, and instead of going stale, they just keep getting better every single time.
By now, Ilona Andrews spoiled us for all other urban fantasy author. We've learned to expect perfection because it's pretty much what we always get from them and we won't settle for anything less. But it's all right. They write, we read, and the world keeps spinning.
A copy of this book was kindly provided by the publisher for review purposes. No considerations, monetary or otherwise, have influenced the opinions expressed in this review.