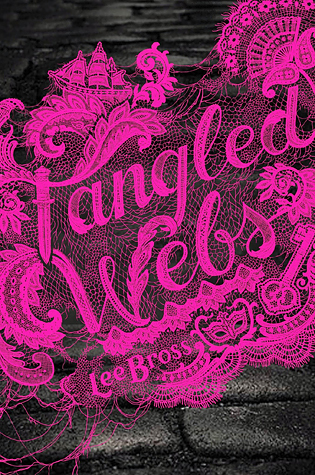 Author: Lee Bross
Series: Tangled Webs, #1
Released: June 23rd 2015
Publisher: Disney-Hyperion
Length: 400 pages
Source: Publisher for review
Buy: Amazon
London, 1725. Everybody has a secret. Lady A will keep yours—for a price. This sumptuous, scandalous YA novel is wickedly addictive.

Lady A is the most notorious blackmailer in the city. With just a mask and a gown to disguise her, she sweeps into lavish balls and exclusive events collecting the most valuable currency in 1725 London—secrets.

But leading a double life isn't easy. By day Lady A is just a sixteen-year-old girl named Arista who lives in fear of her abusive master, Bones, and passes herself off as a boy to move safely through the squalor of London's slums. When Bones attempts to dispose of his pawn forever, Arista is rescued by the last person she expects: Jonathan Wild, the infamous Thief Taker General who moves seamlessly between the city's criminal underworld and its most elite upper circles. Arista partners with Wild on her own terms in the hopes of saving enough money to buy passage out of London.

Everything changes when she meets Graeden Sinclair, the son of a wealthy merchant. Grae has traveled the world, has seen the exotic lands Arista has longed to escape to her whole life, and he loves Arista for who she is—not for what she can do for him. Being with Grae gives something Arista something precious that she swore off long ago: hope. He has promised to help Arista escape the life of crime that has claimed her since she was a child. But can you ever truly escape the past?
Beautiful exteriors often hide the nastiest things, in life and literature alike. We learn that lesson very early in life, and we readers quickly learn to be wary of gorgeous covers. But the wariness can make us miss out, and Tangled Webs has a lot more to offer than just the pretty swirls and colors on its dust jacket.
Not many YA books take place in the 18th century, so when I first read 'London 1725' in the summary, I was immediately drawn to it. It must be said that
Tangled Webs
doesn't offer many historical details, but it also avoids any inaccuracies. Because of the fast pacing, going into descriptions of historical settings and society could have been disastrous for this book. Bross gave us just enough to ground the story, but not enough to burden it.
We meet Arista as Lady A, a lady with a feathered mask who trades secrets and blackmails the rich, but not for her own gain. Underneath the ladylike behavior and glamour is a street urchin, a hungry orphan with nothing left to lose. Arista was bought from the orphanage when she was five or six, and taken to be one of crime lord's many child beggars and pickpockets. But as she grew, she learned to talk and act like a lady, all to prove herself useful and save her own life.
Arista has only two friends, the slightly older Nic, her protector, and the former maid, Becky, who is responsible for her clothes and manners. They may be the only people she trusts, but they are constantly used to threaten her into obedience. Through it all, through pain and impossible circumstances, Arista has a backbone of steel. She is sometimes a bit naïve, having missed out on any and all normal experiences, but she is fierce, dependable and kind-hearted.
The romance may just be the weakest part of this book, not only because it's instalove, but because I never saw any actual trust develop between Arista and Grae. Pretty words and infatuation are what it all came down to. Arista kept working around Grae instead of with him which, while understandable, was also incredibly frustrating.
If I were a nitpicky sort of person in a nitpicky sort of mood, I could find at least twenty seven things wrong with this book. But I'm not, and I won't. At the end of the day,
Tangled Webs
is a flawed but entertaining story that kept me awake for most of the night and even made me cry at times.
A copy of this book was kindly provided by the publisher for review purposes. No considerations, monetary or otherwise, have influenced the opinions expressed in this review.