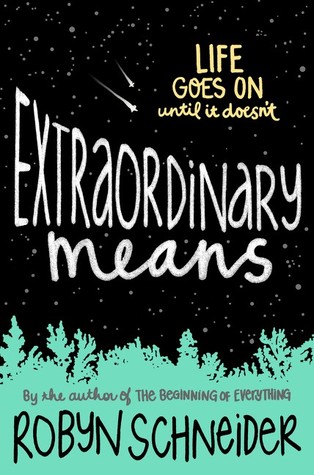 Author: Robyn Schneider
Series: Standalone
Released: May 26th 2015
Publisher: K. Tegen Books
Length: 336 pages
Source: Publisher for review
Buy: Amazon
From the author of The Beginning of Everything: two teens with a deadly disease fall in love on the brink of a cure.

At seventeen, overachieving Lane finds himself at Latham House, a sanatorium for teens suffering from an incurable strain of tuberculosis. Part hospital and part boarding school, Latham is a place of endless rules and confusing rituals, where it's easier to fail breakfast than it is to flunk French.

There, Lane encounters a girl he knew years ago. Instead of the shy loner he remembers, Sadie has transformed. At Latham, she is sarcastic, fearless, and utterly compelling. Her friends, a group of eccentric troublemakers, fascinate Lane, who has never stepped out of bounds his whole life. And as he gradually becomes one of them, Sadie shows him their secrets: how to steal internet, how to sneak into town, and how to disable the med sensors they must wear at all times.

But there are consequences to having secrets, particularly at Latham House. And as Lane and Sadie begin to fall in love and their group begins to fall sicker, their insular world threatens to come crashing down.

Told in alternating points of view, Extraordinary Means is a darkly funny story about doomed friendships, first love, and the rare miracle of second chances.
Extraordinary Means by Robyn Schneider is a well-written contemporary young adult novel that will surely find its place in the hearts of many. It's a deliberate tear-jerker perfect for those who are chasing a few moments of catharsis.
When a book is repeatedly described as the love child of
Looking for Alaska
and
The Fault in Our Stars
, the reader pretty much knows what to expect going in. What's more, an experienced reader can safely predict the beginning, the middle and the end. The similarities between the three books are undeniable. Schneider rarely strays far from John Green's proven model, and even when she does, it's for something that's hardly important.
Robyn Schneider, thy name is not John Green. But it might as well be.
So does this book bring anything at all to the table, and if yes, what? Well, for one, there's the quality of Robyn Schneider's writing, which is excellent. She does sometimes push the profound a bit too far – I've found a few passages that were surely meant to be deep, but that made me laugh instead, and not in a good way. But those were rare, and for the most part, Schneider's style was gentle and elegant.
As far as characters go, they were well thought-through, but they didn't really jump out for me like they should have. There were some good sides, though. Although she's a bit of a rebel, Sadie is a far cry from a manic pixie dream girl, which I actually liked. The simplicity of her character made her seem more real and accessible. Lane is a bit more complex, an overachiever, too serious for his actual age and seemingly socially awkward, at least at first. There's a bit of history between him and Sadie, an old misunderstanding he was unaware of, but the brief past encounter makes their romance seem less abrupt and far more realistic.
The incurable strain of tuberculosis was a nice touch and a great way to isolate characters. The purpose of this disease and Latham was obvious, but still wonderfully done. For me, that was what made
Extraordinary Means
worth reading, not the potential heartbreak and not even the romance. But I'm sure both will appeal to so many other readers and with good reason. This is already Schneider's second novel, but she's already a force to be reckoned with. I just wish she would find her own, wholly original path.
A copy of this book was kindly provided by the publisher for review purposes. No considerations, monetary or otherwise, have influenced the opinions expressed in this review.