Hello, my nocturnal readers!
Yesterday I reviewed Life, Some Assembly Required by Kaje Harper. It was a book I'd waited so long to read and it did not disappoint in the least. But even without this latest book and the continuation of John and Ryan's story, Kaje had already given me so many characters to love, so many hours of joy and so many sentences to swoon over. Even my black, cynical heart can't stay cold when exposed to one of her stories, and it is with great delight that I welcome her to The Nocturnal Library.
Dear Kaje, thank you so much for agreeing to answer a few of my questions. I've been a fan of your books for ages, and having read them all, I can honestly say that you're one of the very few authors who has never let me down.
What a lovely thing to say. Thank you!
Most of my readers are new or fairly new to the M/M genre, which I'm ambitiously hoping to change in the near future. I believe the M/M romance community still fights a lot of prejudice and misconceptions. So let's start with this: why do you write M/M? Are people often surprised when you tell them what you do for a living?
I actually have a day-job that pays the bills, so writing is my joy, more than my occupation. As for why... I've written fiction since I could hold a pencil, and M/M since I was 14. Writing in itself is fun. I love seeing characters who don't actually exist in the world come to life, out of my own imagination. My stories often surprise me as they unfold, like reading an unknown book, only better.
Writing romance lets me write about hope. That's the best part. While real life can sometimes hurt people I care about, and there may be nothing I can do to help them, in my writing I can take my characters through hard times and bring them safely out the other side, into love. That hope of a better, shared future is what I want to create. I use my words to transmute pain, and fear, and prejudice, and loneliness, into love and joy.
When I was a teen I read "The Persian Boy" and "The Front Runner", classics of gay romantic fiction. And it hurt to realize not just intellectually, but emotionally, that all love was not equal in so many eyes, that the world would hurt and reject two hearts that belonged together, just because they were the same gender. That's the power of fiction. I began writing to mend that hurt, mostly for my own sake.
I love M/M romance partly because it has a poignancy— so often it pits love against family, against friends, employers, community or even the law— and I prefer to write emotional subjects. I also like having both main characters be men, with no gender-role expectations. M/F romance has a lot of conventions that go away when I write M/M. The characters begin as equals in every aspect, and the possibilities are wide open for stories of all kinds.
I wrote for fun without publishing for 35 years. It was a personal pleasure. But I've really enjoyed the M/M community I've found, since my husband pushed me to submit that first manuscript of "Life Lessons". And each new M/M reader who says, "Now I see that these two men deserve the same rights as anyone else," brings us a step closer to a just and fair world. I treasure those reviews.
By now, most people in my life do know what I write, including my boss, co-workers, and my family and friends. Most are supportive, if a bit perplexed by my choice of genres. But since I was an outspoken supporter of LGBTQ rights long before I let anyone read my writing, they are not all that surprised. And I'm more than willing to explain why I love the stories, at length, to anyone who decides to ask…
I've met so many of your characters and I think they gave me a pretty clear idea of things you yourself value in life. To be honest, I don't think I've stumbled upon many characters with more integrity and inherent kindness than Tony Hart. Is it difficult to write characters with such strong values and yet never cross the line that would make them seem unrealistic?
The characters I write seem to arrive in my head with their own voices, so it's not always a conscious choice, but I sometimes worry about being preachy or idealized. One of my biggest writing goals is to make my characters feel real. I try to show that they each have human fears and flaws, and times when they are too tired or frustrated to do the right thing.
I do value compassion, integrity, empathy, kindness, determination, logic… and so my MCs tend to mirror that. I've had reviewers who found one or another of my guys too perfect— in the end it's for readers to judge. I guess the people who stick around and read more of my work see enough flaws in my men, alongside their strengths, to believe and care about them.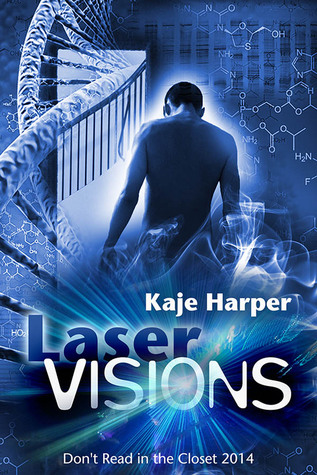 I know you already spend a lot of time with your characters, but if you could bring one of them to life, as a friend, neighbor, brother, who would you choose and why? I myself would choose Ben, by the way. I always wanted a son just like him. And a best friend like Tony. And a neighbor like Mac or Ryan… you get the picture.
Interesting question… I think Simon, from "Unacceptable Risk". He's strong and tough, but not Alpha dominant and he can back down when it's the right thing to do. He's protective, but also compassionate. He has a sense of humor and fun, and doesn't sweat the small stuff. And he cooks! The fact that his sense of humor is sometimes silly, and he turns into a wolf now and then, would not be a problem for me.
You always write M/M, but in so many different genres. I prefer contemporary, but you tried your hand at paranormal romance and science fiction, too. What do you enjoy writing the most? Where are you most comfortable?
I like mystery a lot. I have half a dozen gay cop stories that will never be released, just written because I enjoy doing them. It's a good genre for hurt-comfort stories, which are a favorite of mine. I also love doing fantasy, although I haven't released many of those either. In fantasy, I only have to be logical about my world-building, not correct in every detail. More writing, less research. It's a good thing. But mostly I like mixing it up, so I don't get boring and predictable.
For those who are unfamiliar with John and Ryan from The Rebuilding Year and the newly released Love, Some Assembly Required, how would John describe Ryan and vice versa?
John would probably say that Ryan is smart and compassionate, strong enough that John can relax and let him lead sometimes, great with the kids, and, um, really hot in bed.
Ryan would say John is honest, kind, and solid. Patient, far more than Ryan is. A little too willing, sometimes, to put other people ahead of himself, but like a rock when you need someone you can count on. He's kind, which is why he failed to mention that Ryan has a bit of a temper and can be a smart-ass. And Ryan would say that sex with John, as hot as it is, always feels like making love, not just fucking.
Did you always intend to write a sequel to The Rebuilding Year? We left the guys at a very good place, but it was always clear to me that there was room for a sequel. I waited for the release of Life, Some Assembly Required with bated breath, and it was just as amazing as I'd hoped.
"The Rebuilding Year" was written as a stand-alone, and I didn't expect to revisit the guys. But over time, a couple of characters began nagging me in my head. Ryan wanted to know how coming out to his family went… and Ryan can be pushy. Then Torey, John's daughter, began to complain that she was shunted aside at the end of the first book, as if her needs and life were an afterthought. It wasn't fair. And I came to think she was right.
I was rather hesitant to write the sequel. It's always hard to follow up a popular story, especially after several years. When readers enjoy a book, they develop a proprietary interest in the characters. It's something I find amazing, that characters who were born out of my imagination go on to grow and change in the minds of readers who love them. It does mean that no sequel will please everyone, because it may take the story in directions that don't fit what they envisioned for men they love.
What's more, if I was going to do Torey justice (without some clichéd plot line), I was going to have to bring her mother, John's ex-wife, into the book too. Cynthia was a lot of readers' least favorite character in "The Rebuilding Year" and I know some of them really didn't want to see more of her. But it's a fact of life, after a divorce, that if you want to participate in the lives of your kids, you can't avoid dealing with their custodial parent. So as I wrote, and the book unfolded, there she was again, adding complications, as the guys try to come to terms with their blended and extended family. Some readers may wish I'd run her over with a truck and given John the kids, (and I won't say I wasn't tempted). But I'm glad you liked the book, and I hope most people will enjoy my version of John and Ryan building a future together, around all the challenges life throws in their way.
What would you recommend to new readers? Which book, in your opinion, best represents you and the rest of your work?
That's a tough question, because I do write a lot of genres. I often suggest people start with a freebie. "Like the Taste of Summer" is an almost-contemporary (1980's) short story about coming out and first love that lasts. "Into Deep Waters" is my own personal favorite – a short novel that takes two men from the beginning of World War II, through 69 years of a relationship, to a warm happy ending. And "Nor Iron Bars a Cage" is a fantasy novel, with a broken, traumatized main character who finds strength he didn't realize he possessed, when the man who loves him is there to stand at his side. (This story has trigger warnings for past abuse, self-harm, PTSD.) Any of those will give a new reader a free look at my writing style.
Thank you!
I really appreciate the chance to come by and talk about my books. :)
Please check out Kaje's Amazon page where you can find all of her work, including the freebies. In addition to the ones already mentioned, I highly recommend The Family We're Born With, a currently free story I really enjoyed.
Happy reading, everyone!