Summer is almost upon us, but you wouldn't know it just by looking out the window, at least not around here. Rain, thunder, rain, heavy coulds and some more rain, that's pretty much all we see.
I don't know about you, but the weather affects me terribly. Rain usually makes me depressed and withdrawn, and the only thing that can truly pull me out is a funny, low-angst book. Over the years, I've found quite a few favorites I tend to reread when I need to relax, and today I want to share them with you.
7. The Lizzie & Diesel series by Janet Evanovich
, starting with
Wicked Appetite
, is hands down one of the funniest, most ridiculous things I've ever read. The series has paranormal elements, but they are not to be taken seriously, and neither is the plot. Basically, the whole thing is like an episode of Looney Tunes - do not expect anything like character development or a decent plot, but do expect a one-eyed cat named Cat 7142 and a monkey that keeps flipping everybody off.
"The way it's been told to me is that there are seven deadly sins known collectively as SALIGIA. Envy, Pride, Greed, Gluttony, Lusty, Grumpy, and Sneezy."
"I think some of those were dwarfs," I said to Diesel
6. Maybe This Time by Jennifer Crusie
was written... wait for it... by Jennifer Crusie! Need I say more?! Her books always make me feel better about life in general, and her sense of humor works for me every single time. Maybe This Time is a standalone, which I appreciate, and it has a light paranormal element, which I also appreciate. But like all Jennifer's books, it's essentially a romance, and a second chance one. Oh, and did I mention it's hilarious?
"A lot of really big trees had died to make that desk. His mother had probably gnawed them down, used her nails to saw the boards, and finished the decorative cutwork with her tongue."
5. Suicide Notes by Michael Thomas Ford.
How can a book titled
Suicide Notes
be heart-warming enough to earn a place on this list, you ask? Don't ask me, ask Michael Thomas Ford. It takes a truly brilliant mind to turn such a serious issue into something that can make you laugh and feel good about life. Make no mistake, this book will make you rethink some things and it will occasionally make you cry, but it will be so worth it. Ford often writes about LGBT kids and their issues and I admire him for it. Suicide Notes is just the shiniest example of his work to date.
"It's a really crappy feeling to realize that your entire outook on your life can be controlled by some little pill that looks like a Pez, and that some weird combination of drugs can make your brain think it's on a holiday somewhere really sweet when you're standing naked in the middle of the school cafeteria while everyone takes pictures of you. Metaphorically. Or whatever."
4. The Drake Chronicles by Alyxandra Harvey.
When it comes to Harvey's Drake Chronicles, I have just one word for you: Lucy. Harvey poured her considerable sense of humor into this one character and the end result is a series I keep going back to even now, long after she finished it. This series is a very light young adult paranormal romance that can make me feel great at the worst of times.
"I hadn't had a chance to read an entire novel in weeks.
Whatever the others might say about politics, civil war, and hunters, the real evil was lack of reading time. If they all read more they might freak out less. And if I was going to live forever I was going to have to start a reading list."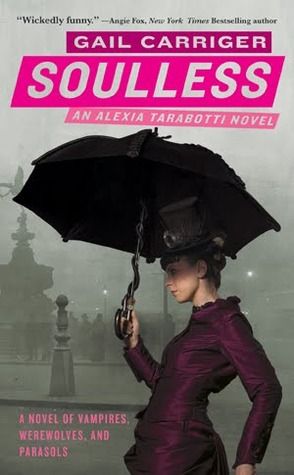 3. The Parasol Protectorate by Gail Carriger.
Don't you just love Carriger's books? She really brings something new to the table. Her humor is different and interesting, her language just exquisite, and Alexia a character so easy to love. Emily Gray narrates this series beautifully, I highly recommend the audio. In any case, read this series if you haven't already. It's guaranteed to make you smile.
"Miss Tarabotti was not one of life's milk-water misses--in fact, quite the opposite. Many a gentleman had likened his first meeting with her to downing a very strong cognac when one was expecting to imbibe fruit juice--that is to say, startling and apt to leave one with a distinct burning sensation."
2. Charley Davidson series by Darynda Jones.
When it comes to making readers laugh, no one is better at it than Darynda Jones. Charley ows her insane popularity solely to Darynda sense of humor. Those of us who've been following the series from the start have learned to expect this from them both. Laughing ourselves into stitches is a common occurence when you hold a Charley Davidson book in your hands. The fact that Reyes is steaming hot and that we also have a brilliant cast of secondary characters is just a really cool bonus.
"Got it. Have you seen my pants?"
"Speaking of which, how did you get home without them?"
"I borrowed a pair of you sweats. I ran into a convenience store with them on. I talked to neighbors out in their yard when I pulled up. And only after I got inside did I realize they had 'Exit Only' written across the back."
"You stole my favorite sweats?"
"I wanted to die."
"It's weird that sweats would make you suicidal. I'd analyze the crap out of that if I were you."
"Do you actually wear those in public?"
"Only when I go out in them."
1. Shattered Glass by Dani Alexander.
There's very little I could say about Shattered Glass that I haven't said already. The fact that it's here as number one, chosen over Charley Davidson, speaks louder than words. Austin Glass is my go-to guy whenever I'm feeling tired, sad or just plain lonely. He can make me laugh in a matter of minutes, and his heart-warming honesty always leaves me thoroughly entertained and happy. For this book, I'd highly recommend the audio version since it's one of the best I've ever had the pleasure of listening. The narrator
is
Austin and his voice is truly remarkable.
"Out of curiosity, when do I grow up and become a fullfledged man with a penis?"
"When words like 'hump day' don't make you giggle like a twelve-year-old," he retorted, blowing smoke my way.
"Wow, that long?
"


Of course, we mustn't forget the Kate Daniels series, which was on my list last week, or Molly Harper's Naked Werewolf series, or Carrie Harris' Bad Taste in Boys and many, many others.

What's the funniest books you remember reading? Recommendations are more than welcome. :)