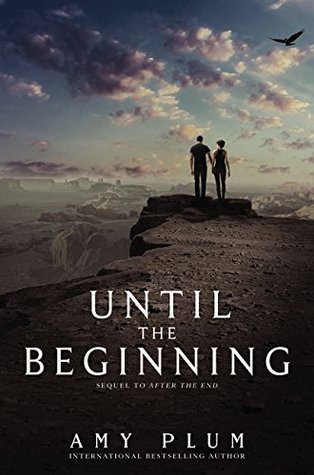 Author: Amy Plum
Series: After the End, #2
Released: May 5th 2015
Publisher: HarperTeen
Length: 336 pages
Source: Publisher for review
Buy: Amazon
When Juneau's clan disappeared, she lost so much more than her friends and family. She soon discovered everything she thought she knew about her life was a lie. Her people's gifts were actually secret abilities that others wanted, desperately enough to kidnap an entire village.

Juneau and her new companion Miles's cross-country journey to find her clan has led them to a game preserve in New Mexico. Now Juneau's people are finally within reach, and she will stop at nothing to save them. But she has a target on her back too, because unbeknownst to her she is the key to unlocking everything. To rescue her people - and herself - Juneau must discover what she, and her abilities, are truly capable of.
Amy Plum, one of my most trusted YA authors, has apparently reached new heights. Her Until I Die trilogy has a very special place in my heart, but After the End is in a completely different category. With its imaginative worldbuilding and heroes we can admire and adore every step of the way, this duology is really every reader's dream come true.
In this second part, Juneau and Miles are outnumbered and outgunned. They have enemies on all sides and very few resources, but for Juneau, abandoning her clan simply isn't an option. Plans need to be made and battles need to be fought, and Juneau's sense of honor and responsibility through it all is stupendous.
Oddly enough, Until the Beginning is a bit slower than After the End. It is a different book, focused more on Juneau's introspection and crisis of faith. With everything she thought she knew about her world gone, Juneau has much to consider and make some very difficult choices for herself. Miles also faces some enormous changes and although the struggles with them somewhat, he quickly takes them in stride, as is his way. Unlike Juneau, he is more 'go with the flow' kind of guy, which is certainly an advantage when your world shifts from one second to the next.
Their relationship develops beautifully in a very short time. There is a true friendship and companionship between these two, followed by deep and honest trust. When you have all that, love follows not far behind, and even though it happened in mere weeks, theirs was a connection I believed completely.
There's not much to do except wholeheartedly recommend this duology to all of you. Amy has shown us that her imagination knows no bounds and that she's an author with so much to offer. I'm willing to bet that we'll be getting many incredible stories from her, and all those updates about her life in Paris certainly don't hurt either.
If you have yet to meet Juneau and Miles, make sure to do so as soon as you can. From Alaska to Nevada, their adventure will leave you breathless.
A copy of this book was kindly provided by the publisher for review purposes. No considerations, monetary or otherwise, have influenced the opinions expressed in this review.