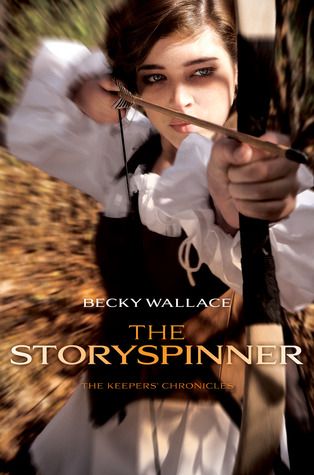 Author: Becky Wallace
Series: Keepers' Chronicles, #1
Released: March 3rd 2015
Publisher: Margaret McElderry
Length: 432 pages
Source: Publisher for review
Buy: Amazon
Drama and danger abound in this fantasy realm where dukes play a game for the throne, magical warriors race to find the missing heir, and romance blossoms where it is least expected.

In a world where dukes plot their way to the throne, a Performer's life can get tricky. And in Johanna Von Arlo's case, it can be fatal. Expelled from her troupe after her father's death, Johanna is forced to work for the handsome Lord Rafael DeSilva. Too bad they don't get along. But while Johanna's father's death was deemed an accident, the Keepers aren't so sure.

The Keepers, a race of people with magical abilities, are on a quest to find the princess—the same princess who is supposed to be dead and whose throne the dukes are fighting over. But they aren't the only ones looking for her. And in the wake of their search, murdered girls keep turning up—girls who look exactly like the princess, and exactly like Johanna.

With dukes, Keepers, and a killer all after the princess, Johanna finds herself caught up in political machinations for the throne, threats on her life, and an unexpected romance that could change everything.
We all know that good YA fantasy is hard to find. It's where we find the brightest stars, but it's also the most challenging of genres. For a debut author, writing in the same genre as Melina Marchetta, Kristin Cashore, Megan Whalen Turner, Rae Carson and many, many authors, can be very risky and, I assume, somewhat intimidating. After reading The Storyspinner, I believe Becky Wallace is one of the good ones. Not great just yet, but very promising indeed.
The Storyspinner is told from multiple points of view, and through the eyes of many, we follow two different storylines that eventually collide. Both are equally interesting, although I was partial to the storyline with the stronger romance. Constantly switching between six point of view characters could have been disastrous, but Wallace made it work with seeming ease.
The world she created for us seems simple at first, but it gets more complicated as the story progresses and I hope that the hardcover includes a map because keeping track can be difficult at times. In the beginning, we seem to have two worlds divided by a impenetrable barrier. One is the world of Keepers, filled with magic and wonders, and the other is inhabited by humans. When the barrier starts weakening, a group of Keepers has to cross for the first time in 300 years to find a missing princess and renew the wall between worlds. The world is a bit more complicated on the human sides, with so many dukes and their countries to keep track of. The political games may be light in this book, but they are nevertheless thrilling.
By constantly jumping from one storyline to the other, the author managed to keep the tension high throughout the lengthy novel. She made us care equally for all characters, which made the jumps between them all the more interesting. We also have two romances, one on each side and one stronger than the other. Johanna and Rafael stole my heart from the very beginning, and even when they despised each other, the tension between them was palpable.
But the ending was mean! I don't appreciate cliffhangers and in fact, they are counterproductive in my case. I am less likely to pick up a sequel after a cliffhanger, strictly out of principle. A good novel should be able to pull us back for more all on its own, without relying on cheap tricks. And yet, I will be picking up the next Keepers' Chronicles book the second I can. It's just that good.
A copy of this book was kindly provided by the publisher for review purposes. No considerations, monetary or otherwise, have influenced the opinions expressed in this review.