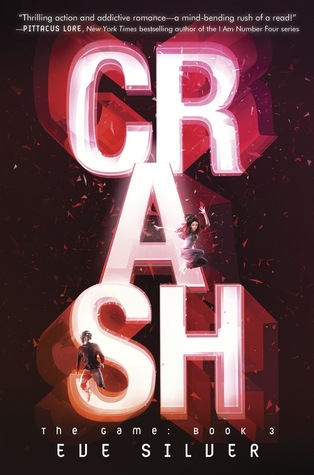 Author: Eve Silver
Series: The Game, #3
Released: June 9th 2015
Publisher: Katherine Tegen
Length: 368 pages
Source: Publisher for review
Buy: Amazon
A thrilling action/suspense novel for fans of The Fifth Wave about contemporary teens pulled in and out of an alternate reality where battling aliens is more than a game—it's life and death.

Miki's life is falling apart around her. Her dad and best friend are lying in the hospital. The Game is glitching, making missions more frequent and more deadly. And someone close to her is waiting for the right moment to betray her.

Miki feels like she's hanging on by a thread and the only thing keeping her tethered is Jackson's hand in hers. Yet telling him how much she needs him, how much she loves him, feels like the biggest challenge of all. And if Miki really wants the missions to end for everyone, she'll have to let go and be ready to fight when the walls between the Game and reality come crashing down. Because if there's one thing she's learned, it's that she's got a whole lot left to lose.

Crash is the pulse-pounding conclusion to the Game trilogy fans won't want to miss.
I've been oddly fond of this trilogy from the very start. It was one of those strange situations when you can see the flaws in something quite clearly, and yet they do nothing to diminish your enjoyment or affection. Something about Silver's story just clicked with me, and while I admit that it's time, it saddens me to say goodbye.
Unexpectedly, Crash was an emotion-oriented novel. Based on the previous two books, I expected it to have much more action and suspense. But really, this book was about Miki's fears and struggles, her uncertainties and her fight with depression. In Crash, Miki finally has to learn to trust Jackson completely, even though she was abandoned in one way or another by everyone else who ever mattered to her.
Things we suspected from the beginning, truths we dreaded the whole time, finally come to light. Accepting them is hard for Miki, but it's much harder for Jackson after five years in the game and so many people lost. Even in such an action-filled trilogy, Silver didn't botch her characterization. It was very difficult not to feel Jackson's pain and hopelessness as everything he thought he knew slowly turned to ashes.
Silver gave us no easy solutions, no deus ex machina fixes for Miki and Jackson. Some things can't just be taken away, and those pulled into the game suffered too much and changed far too much to just go back to their lives overnight. There are grave losses in this book and so many reasons for Miki to just give up and give in to her depression, but she never does. I have to say I admired her spirit throughout.
This is Eve Silver's first trilogy for young adults, but I hope she'll continue writing YA, and not just adult. She truly knows how to create characters we can love even when they're not perfect and especially when they make difficult or even wrong choices.
A copy of this book was kindly provided by the publisher for review purposes. No considerations, monetary or otherwise, have influenced the opinions expressed in this review.