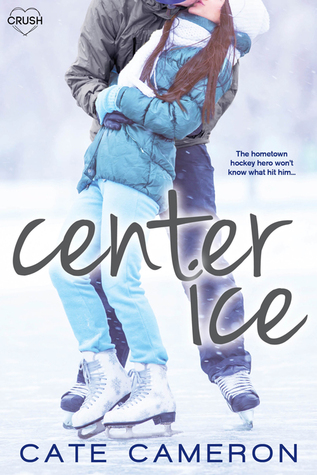 Author: Cate Cameron
Series: Corrigan Falls Raiders
Released: May 19th 2015
Publisher: Entangled Crush
Length: 196 pages
Source: Publisher for review
Buy: Amazon
The hometown hockey hero won't know what hit him…

Karen Webber is in small-town hell. After her mother's death, she moved to Corrigan Falls to live with strangers—her dad and his perfect, shiny new family—and there doesn't seem to be room for a city girl with a chip on her shoulder. The only person who makes her feel like a real human being is Tyler MacDonald.

But Karen isn't interested in starting something with a player. And that's all she keeps hearing about Tyler.

Corrigan Falls is a hockey town, and Tyler's the star player. But the viselike pressure from his father and his agent are sending him dangerously close to the edge. All people see is hockey—except Karen. Now they've managed to find something in each other that they both desperately need. And for the first time, Tyler is playing for keeps…
Entangled Teen has a new imprint, Entangled Crush, and just in time for summer, too. The books published under this imprint are exactly what the name suggests – short, deeply romantic reads perfect for upcoming summer days spent on the beach.
Center Ice
fits that description perfectly. With little less than 200 pages, it falls somewhere between a novella and a full-length novel, which makes it a pretty easy read. Thematically, however, it pushes the boundaries and attempts to do more. Following behind Katie McGarry, Jennifer Armentrout (as J. Lynn) and other similar authors, Cate Cameron bravely tries to write something more serious and far more memorable than your average summer read.
Sixteen-year-old Karen's mother recently died, which forced her to go live with the father she's never even met, the wife he cheats on constantly and their three children. Practically overnight, Karen went from being the only child of a single mom to being the middle kid in a large, dysfunctional family. Needless to say, her life is in shambles.
In her new life, Tyler MacDonald seems to be the only thing that makes any sense. He is much more experienced and a hockey star, but Karen couldn't care less about his fame or his status. He makes her feel like a normal person and that's pretty much all that counts.
There are things Cameron did exceptionally well. Her teens were among the most realistic I've ever stumbled upon and their behavior seemed completely true to life. She didn't hesitate to portray them exactly as they are, without unrealistic hesitations and modesty. Karen in particular was a fabulously developed character, but Tyler wasn't far behind at all.The story of these two was very warm and honest.
Center Ice
would have been a much better book if Cameron left it at that. But she attempted to do too much, to give too many character too much depth in a fairly short story, and what we got in the end is sometimes successful, but sometimes a complete failure.
Karen's father and his marriage were by far the most disturbing part of this book. A serial cheater before and after Karen was made, he claimed to love his family and yet he kept disrespecting them in front of the whole town. For me, this person can't possibly have any redeeming qualities and I'm not convinced that someone like him could ever change. But Cameron decides not only to give him a second chance, but to make him a different man overnight. Tyler's father is another big issue of mine. Obsessed with Tyler's carrier, too focused on his son to do anything else, even hold a job, he seemed more cartoonish than anything else and his interactions with Tyler struck me as exaggerated. Both fathers were antagonists of sorts, and neither character was very successful.
But
Center Ice
still deserves two or three hours of your time. Cameron has a lot to offer and I have a good feeling about this series. I just hope she'll give more thought to her secondary characters' motivations in the future.
A copy of this book was kindly provided by the publisher for review purposes. No considerations, monetary or otherwise, have influenced the opinions expressed in this review.