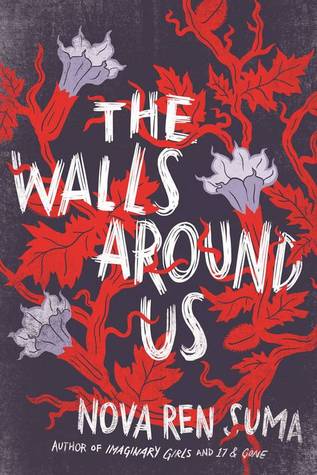 Author: Nova Ren Suma
Series: Standalone
Relased: March 24th 2015
Publisher: Algonquin
Length: 336 pages
Source: Publisher for review
Buy: Amazon
The Walls Around Us is a ghostly story of suspense told in two voices—one still living and one long dead. On the outside, there's Violet, an eighteen-year-old dancer days away from the life of her dreams when something threatens to expose the shocking truth of her achievement. On the inside, within the walls of a girls' juvenile detention center, there's Amber, locked up for so long she can't imagine freedom. Tying these two worlds together is Orianna, who holds the key to unlocking all the girls' darkest mysteries.

We hear Amber's story and Violet's, and through them Orianna's, first from one angle, then from another, until gradually we begin to get the whole picture—which is not necessarily the one that either Amber or Violet wants us to see.

Nova Ren Suma tells a supernatural tale of guilt and innocence, and what happens when one is mistaken for the other.
I've admired Nova Ren Suma deeply ever since she published her debut, Imaginary Girls. Her books aren't easy reads and they could never be described as entertaining, but they are, as a rule, thought provoking and brilliantly written. There's always such quiet beauty to her narratives, an unpretentious quality of her writing, very simplistic in nature but gorgeous beyond compare. Her style is far from being decorative or lush, but she still somehow creates an atmosphere that envelops the reader completely.
Nova Ren Suma builds anxiety slowly, little by little, brick by brick, until it becomes a huge, suffocating wall. Aside from being overwhelmed and claustrophobic, the reader must also deal with the paradox of liking a convicted criminal and despising a successful young ballerina. The two girls at the center of this story, Violet and Amber, are worlds apart from each other. Life gave them very different opportunities, completely different starting points, and they each did with them what they could.
In her quiet way, the author addressed the prejudices we all deal with (and make) daily. How easy is it to convict a girl from a broken home, a poor, motherless girl, regardless of her own success? And how much harder is it to see the faults in a rich girl, America's sweetheart if there ever was one? Even though they're hidden beneath a very odd story, these issues jump at the forefront all on their own, without being thrown in our faces by the author. The prisons are filled with underprivileged, unfortunate, some of them judged for who they are, but some of them convicted for what they are. We should know better by now, but somehow we still don't.
It's also very interesting to see the dark side of ballet, a prestigious art form that we tend to view as pure and innocent. Ballerinas in this story are anything but, though. They're raised to be insanely competitive, self-absorbed and mean. Of course, some take to it better than others.
I'll admit that this book was hard for me to read. All that jealousy and resentment, the pure evil and the unfairness of it all were simply suffocating. But in the end it was more than worth it. Rarely do I find a book that leaves such a strong impression. So read this, but find something light and funny to read right after. After, that is, you take some time to untangle things and think them through.
A copy of this book was kindly provided by the publisher for review purposes. No considerations, monetary or otherwise, have influenced the opinions expressed in this review.