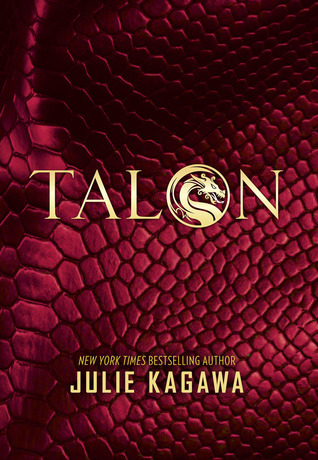 Author: Julie Kagawa
Series: Talon, #1
Released: January 15th 2015
Publisher: Mira INK
Length: 449 pages
Source: Publisher for review
Buy: The Book Depository
Long ago, dragons were hunted to near extinction by the Order of St. George, a legendary society of dragon slayers. Hiding in human form and growing their numbers in secret, the dragons of Talon have become strong and cunning, and they're positioned to take over the world with humans none the wiser.

Ember and Dante Hill are the only sister and brother known to dragonkind. Trained to infiltrate society, Ember wants to live the teen experience and enjoy a summer of freedom before taking her destined place in Talon. But destiny is a matter of perspective, and a rogue dragon will soon challenge everything Ember has been taught. As Ember struggles to accept her future, she and her brother are hunted by the Order of St. George.

Soldier Garret Xavier Sebastian has a mission to seek and destroy all dragons, and Talon's newest recruits in particular. But he cannot kill unless he is certain he has found his prey: and nothing is certain about Ember Hill. Faced with Ember's bravery, confidence and all-too-human desires, Garret begins to question everything that the Order has ingrained in him: and what he might be willing to give up to find the truth about dragons.
Here are the things one can expect in a book by Julie Kagawa: love triangles, enemies-to-lovers, forbidden love.
And here are the things that always end up working in a book by Julie Kagawa: love triangles, enemies-to-lovers, forbidden love.
As strange as it may seem, every single thing I dislike intensely always ends up working when it's written by her. Having been warned about the love drama, I've waited over two months to read
Talon
, a decision I now regret with all my heart. I should have known she would deliver, but boy, I just never learn.
First of all, here there be dragons. That alone should be enough to make you want to read this book. Admittedly, the dragons mostly stay in their human form, but there's hope for the future, and even hidden dragons are more interesting than no dragons at all! The dragon lore hasn't been developed to its full potential, but I don't doubt that it will be, hopefully in
Rogue
.
I won't waste time discussing the love triangle. It's clear, as it usually is, who the best boy is and who'll end up with Ember. The whole romantic drama wasn't nearly as bad as it could have been. The human part of Ember is drawn to one of the boys, and the dragon part to the other, but while both Riley and Garrett are great guys, I feel that we know her true match.
Danger comes from two sides in
Talon
: the Order of St. George and Talon itself. The former has worked against dragon for centuries. The Order's soldiers are young, competent and completely merciless. But if the humans are merciless, Talon's dragons are vicious, trained while they're still hatchlings and thought that they're a superior species.
Ember doesn't quite see it that way. Her twin brother Dante is completely loyal to Talon which is a source of constant pain between them. The rift between them and her feelings about it were what allowed me to connect with her. The rest – her courage, determination and tendency to think for herself – were just a bonus.
Talon
has a pretty open ending, which is another thing I tolerate only from certain authors. From anyone else, it would have infuriated me, but Kagawa can easily get away with it. I'm actually pretty desperate to get my hands on
Rogue
. Luckily, it's almost out.
A copy of this book was kindly provided by the publisher for review purposes. No considerations, monetary or otherwise, have influenced the opinions expressed in this review.