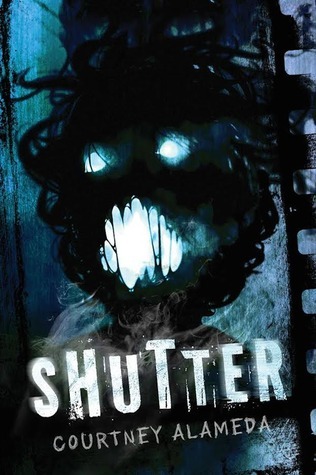 Title: Shutter
Author: Courtney Alameda
Series: Standalone
Released: February 3rd 2015
Publisher: Feiwel & Friends
Length: 384 pages
Source: Publisher for review
Buy: Amazon
Micheline Helsing is a tetrachromat—a girl who sees the auras of the undead in a prismatic spectrum. As one of the last descendants of the Van Helsing lineage, she has trained since childhood to destroy monsters both corporeal and spiritual: the corporeal undead go down by the bullet, the spiritual undead by the lens. With an analog SLR camera as her best weapon, Micheline exorcises ghosts by capturing their spiritual energy on film. She's aided by her crew: Oliver, a techno-whiz and the boy who developed her camera's technology; Jude, who can predict death; and Ryder, the boy Micheline has known and loved forever.

When a routine ghost hunt goes awry, Micheline and the boys are infected with a curse known as a soulchain. As the ghostly chains spread through their bodies, Micheline learns that if she doesn't exorcise her entity in seven days or less, she and her friends will die. Now pursued as a renegade agent by her monster-hunting father, Leonard Helsing, she must track and destroy an entity more powerful than anything she's faced before . . . or die trying.
I remember starting
Shutter
with a certain amount of skepticism, cynical soul that I am. In my own defense, good YA horrors are few and far between – mostly they're just creepy enough to justify the label and not a bit more. But Courtney Alameda proved me wrong in no time at all. By page 30, I was gripping my poor Kindle tightly, disgusted, terrified and oddly thrilled all at the same time. In all honesty, I haven't read a YA horror so scary and exciting since
The Waking Dark
by Robin Wasserman.
Shutter
is exactly what I want
all
my YA books to be: exciting, different and most importantly, romantic. It has all the right ingredients, but they're put together in an entirely new way which makes it one of the best books I've read in a good long while. Alameda combined (mostly) excellent characterization with an incredible sense of pacing to give us a truly memorable read.
The basis of Alameda's worldbuilding is a biological rarity – tetrachromacy – to which she gave paranormal properties. Micheline Helsing, descendant of
the
Van Helsing, is a tetrachromat, which allows her to see and classify ghosts better than anyone else. Her family has always fought against the dead and Micheline carried on the tradition and obligation even after losing half her family to ghosts. She and her father are the only remaining members of the Helsing family and they are both members of the Helsing Corps, an agency that defends the cities from the supernatural.
For the most part, Alameda's characterization is superb. Micheline and her crew are excellently developed, each with a very distinct personality. Their group dynamic is also very interesting, as is Micheline's relationship with Ryder. However, Micheline's relationship with her father was somewhat exaggerated and his complete blindness to her needs seemed entirely too unrealistic. As the main antagonist of the story, at least emotionally, Micheline's father came across as completely self-absorbed, utterly mean and perhaps even two-dimensional. His character brought a very strong emotional layer, but didn't otherwise contribute.
One minor thing aside,
Shutter
was practically flawless. The entire experience was reminiscent of
Anna Dressed in Blood
– the surprise, the horror, the excellent writing, and the creepiness of the story, which happens to be Alameda's special talent.
Shutter
seems to be a standalone, which I usually support, but in this case I feel that there's room for more and I hope she'll decide to go back to these characters. The sooner the better.
A copy of this book was kindly provided by the publisher for review purposes. No considerations, monetary or otherwise, have influenced the opinions expressed in this review.