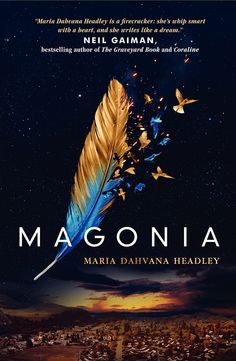 Author: Maria D. Headley
Series: Unknown
Released: April 28th 2015
Publisher: HarperCollins
Length: 320 pages
Source: Publisher for review
Buy: Magonia
Aza Ray is drowning in thin air.

Since she was a baby, Aza has suffered from a mysterious lung disease that makes it ever harder for her to breathe, to speak—to live.

So when Aza catches a glimpse of a ship in the sky, her family chalks it up to a cruel side effect of her medication. But Aza doesn't think this is a hallucination. She can hear someone on the ship calling her name.

Only her best friend, Jason, listens. Jason, who's always been there. Jason, for whom she might have more-than-friendly feelings. But before Aza can consider that thrilling idea, something goes terribly wrong. Aza is lost to our world—and found, by another. Magonia.

Above the clouds, in a land of trading ships, Aza is not the weak and dying thing she was. In Magonia, she can breathe for the first time. Better, she has immense power—and as she navigates her new life, she discovers that war is coming. Magonia and Earth are on the cusp of a reckoning. And in Aza's hands lies the fate of the whole of humanity—including the boy who loves her. Where do her loyalties lie?
Oh, Magonia, you strange, strange book, it's going to take me months to decipher you.
Magonia by Maria Dahvana Headley has so many things going for it, I'm not even sure where to begin. It's a book that simply refuses to be compared or classified; even determining its genre is proving to be impossible. It's a delightful combination of science fiction, fantasy, and even dystopia, and it easily balances the three, never allowing one to overtake the others.
Headley brings us a previously unexplored story of flying ships and sky sailors. She took a fairly unknown story from the 9th century, used it to her best advantage, and breathed something wholly new and original into it for good measure. The final result is magical: a cloud realm, bird people, sky pirates and magical songs, all combined to create a book unlike anything I've ever read before.
Headley writing style is lyrical and gorgeous. There have been many comparisons to Laini Taylor and Neil Gaiman, and they aren't entirely exaggerated or wrong. But I must say that in this too, she gives us something that's entirely her own. Her understanding and use of language to create or dispel tension, to project moods and atmosphere, is simply astonishing.
The story is told from two points of view, and both Aza and Jason are amazing characters. Intelligent, resourceful, geeky, unusual, and loyal, they've depended on each other for pretty much everything since they were five years old. When they get separated, Jason's point of view becomes more than just welcome – it becomes necessary to understand his part of the story, but it also strengthens the emotional tension and offers us an insight into his peculiar and understanding nature.
There were times when Aza's second world became a bit overwhelming. Although it doesn't seem that way, probably thanks to Headley's unusual writing style, the pacing is pretty fast and it sometimes doesn't give us enough time to process. I'm usually in favor of losing extra chapters and paragraphs, but this book would have benefited from an extra fifty or hundred pages. With such a marvelous worldbuilding, Headley should have allowed herself to use it to its full potential, which I don't think she's done.
The ending of Magonia is very satisfactory, but there is much room for a sequel. There hasn't been an announcement so far, at least I wasn't able to find one, but I sincerely hope that there's a second book in the works because this world has so much more to give.
A copy of this book was kindly provided by the publisher for review purposes. No considerations, monetary or otherwise, have influenced the opinions expressed in this review.