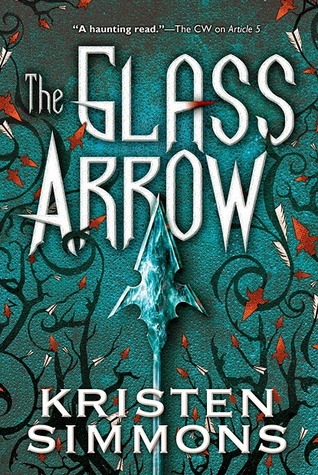 Author: Kristen Simmons
Series: Standalone
Released: February 10th 2015
Publisher: TorTeen
Length: 320 pages
Source: Publisher for review
Buy: Amazon
The Handmaid's Tale meets Blood Red Road in Glass Arrow, the story of Aya, who lives with a small group of women on the run from the men who hunt them, men who want to auction off breeding rights to the highest bidder.

In a world where females are scarce and are hunted, then bought and sold at market for their breeding rights, 15-year old Aya has learned how to hide. With a ragtag bunch of other women and girls, she has successfully avoided capture and eked out a nomadic but free existence in the mountains. But when Aya's luck runs out and she's caught by a group of businessmen on a hunting expedition, fighting to survive takes on a whole new meaning.
For some reason, I was quite sure The Glass Arrow would be a fantasy book. The cover certainly points that way, and although I should not have assumed, I was still surprised to find a complex dystopia instead of the fantasy novel I was hoping for.
The world Simmons gives us is horrifying: hunger, disease and awful living conditions for everyone but the very few rich men. The women are considered to be merchandise and they are sold like objects on the meat market. They are groomed and fattened and polished to become more appealing to wealthy men. Most girls know that it's the only future for them and some even welcome it, but Aya was raised in the wilderness, with her mother, her aunt and cousins. The mountains were Aiyana's home since she was born and they're all she knows, but once she is captured and taken to the city, she is able to show us the sickening societal structure and the absolutely horrendous treatment of women.
The Glass Arrow is a strange mix of old and new. People die from the simplest diseases, most barely surviving the hunger and filth. Food is rare, everyone but the rich survives on food supplements. However, they use plastic surgery to correct the flaws of girls ready to be sold, there's permanent make-up and many other cosmetic procedures. Apparently, at one point the society decided to throw away cars and technology and return to a simpler life. But somehow, the rich still have the advanced video games and other technological developments.
The thing with dystopias, I think, is that they have to be believable, as close to reality as possible. We must be able to see things happen exactly that way, become utterly convinced that the world described is just around the corner. There are dystopias that work exactly like that, and they are always the best ones. But the future described in The Glass Arrow was illogical and full of discrepancies. It did not work at all.
Oddly enough, the romance saved the story. Aya's feelings for Kiran changed very slowly and her weariness was understandable and even welcomed. Her internal struggle was done exceptionally well and the long journey from prejudice to trust seemed entirely believable and perfectly done.
I was surprised and glad to be reading a standalone. It's nice to have a well-rounded ending that doesn't attempt to do too much, but that covers all the things that are truly important to characters and readers both. Despite its flaws, The Glass Arrow is well-executed story that doesn't have the strongest emotional impact, but it's necessary and educational nevertheless.
A copy of this book was kindly provided by the publisher for review purposes. No considerations, monetary or otherwise, have infleunced the opinions expressed in this review.